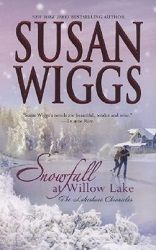 Title:
Snowfall at Willow Lake
Series:
The Lakeshore Chronicles #4
Author:
Susan Wiggs
Published:
February 1/08 by Mira Books
Length:
439pgs
Genre:
contemporary romance
Shelf:
own
Rating: ★★★★
Back Cover Blurb:
After two years of grueling work for the International Criminal Court in The Hague, an international terrorist incident prompts divorced lawyer Sophie Bellamy to recognize that her work is meaningless without her two children—Max, 12, and Daisy, 19—who are living with their remarried father. On the snowy night Sophie returns to Avalon, N.Y., she meets the handsome bachelor veterinarian Noah Shepherd, who's looking for the right lady to mother his kids and live in his rambling farmhouse with him. While Sophie is happy to be part of a community, get reacquainted with her kids and care for her grandson (Daisy has an infant boy with a recalcitrant father), she is thrilled at Noah's sexy attention until she learns he's 10 years younger than she—29 to her 39. In her latest Lakeside Chronicles title, Wiggs (Dockside) jovially juggles the lives of numerous colliding characters and adds some winter-favorite recipes for a festive touch.
My Review:
This is one of those novels that leaves you with a warm, squishy feeling inside at the end of the tale. Wiggs had me in tears more than once with this emotionally poignant tale. I love how Wiggs jumps back and forth in time, seamlessly forwarding the story and filling in the blanks. It was an intimate and intricately crafted novel that drew me in to the deepest aspects of the characters' lives. The international implications of this novel were astounding. I love how Wiggs tied Avalon to the world at large. Everything is interconnected. The symbolism of the town name "Avalon" is especially apparent in this novel.
I love how Wiggs continues to develop a multiplicity of characters in this novel. Those that I've enjoyed before now are becoming individuals that I can't live without. Max and Daisy are growing up before my eyes. That said, no one in this novel tops Sophie and Noah. His laid back personality tempers her need to control and succeed at everything. They were also individuals who really drew me in. The way that Wiggs developed them made me feel as if I knew them personally.
The novels in this series always leave me hungry and with the comfort of a warm kitchen on a cold winter's night. This one definitely fit in that group. It was a fantastic read, any time of year.
Book Links