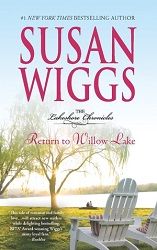 Title:
Return to Willow Lake
Series:
The Lakeshore Chronicles #9
Author:
Susan Wiggs
Published:
February 26/13 by Harlequin MIRA
Length:
384pgs
Genre:
contemporary romance
Shelf:
own
Rating: ★★★★★
Back Cover Blurb:
#1 New York Times bestselling author Susan Wiggs brings readers home to Avalon, a town nestled on the shores of Willow Lake, in a heartbreaking and uplifting novel that explores the bonds of family and the perils and rewards of love.
Sonnet Romano has the ideal career, the ideal boyfriend, and has just been offered a prestigious fellowship. But when she learns her mother is unexpectedly expecting in a high-risk pregnancy, she puts everything on hold and heads home to Avalon. Once her mom is out of danger, Sonnet intends to pick up her life where she left off.
But when her mother receives a devastating diagnosis, Sonnet must decide what really matters in life, even if that means staying in Avalon and taking a job that forces her to work alongside her biggest, and maybe her sweetest, mistake—award-winning filmmaker Zach Alger.
And in a summer of laughter and tears, of old dreams and new possibilities, Sonnet may find the home of her heart.
My Review:
Soft, mellow, heartbreaking, hope-making. Wiggs definitely puts it all on the line with this one. She writes emotion that jumps from the page. Although sad at times, this story is also empowering, and just plain fun. This is such an intimately told tale. It is also a vivid one. Each and every aspect comes to life as Wiggs paints the scene around her compelling characters.
I like the little recaps on characters from earlier in the series as they become important again. Wiggs' emphasis on what makes them important to the story at hand brings the small town feeling out in a myriad of ways. The main characters in this novel were no exception. The history between them and their denial of the changes in their relationship was priceless. Not to mention the fact that these two were just pain likeable and inspiring on their own. The dynamic between them was so real that I couldn't help but wish for it for myself.
This return to Willow Lake is probably my favourite in the series to this point. It is so intimate & emotional, while still remaining down to earth and utterly real. Wiggs continues to write with feeling and flair, drawing readers deep into the Catskills with every word.
Book Links