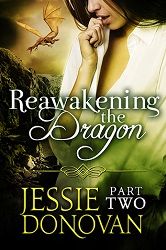 Title:
Reawakening the Dragon part 2
Series:
Stonefire Dragons #15
Author:
Jessie Donovan
Published:
August 15/15
Length:
64pgs
Genre:
paranormal romance
Shelf:
review
Rating: ★★★★★
Back Cover Blurb:
Will Kai and Jane be able to work together and locate the dragon hunters? Or, will their attraction prevent them from succeeding?
17,400 words / 18+, explicit language and sexual situations / Cliffhanger
My Review:
Donovan returns to Kai & Jane's story with flair. The romantic tension between these two is palpable, and apparent in every aspect of the story. Combined with the fast paced, danger fraught story Donovan has created a winning story. The suspense throughout is topped only by that left by the cliff-hanger ending.
I love how Donovan develops her dragon shifters & their world just a little more with each new story. Stonefire is a larger than life place that is seeped with history, mythology, and fantastic characters. The dragon-human interactions are priceless and really show a lot about who the dragon shifters are.
Kai's over the top jealousy was perfect. I thoroughly enjoyed this crack in his perfectly polished veneer. His alpha-ness on the outside & his vulnerability on the inside makes him a character that you can't forget. Jane's assertiveness puts her on par with Kai, making them quite the couple. Their interactions are so real & genuine, while at the same time being larger than life.
Donovan's latest foray into Kai & Jane's lives was an exciting and fast paced story that left me on pins & needles. I'm dying to see what comes next.
Book Links