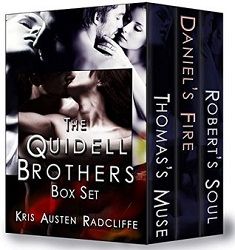 Title:
The Quidell Brothers Box Set
Series:
Quidell Brothers #1-3
Author:
Kris Austen Radcliffe
Published:
May 24/15 by Six Love Erotic Romance
Length:
476pgs
Genre:
contemporary romance
Shelf:
review
Rating: ★★★★★
Back Cover Blurb:
The QUIDELL BROTHERS BOX SET includes: THOMAS'S MUSE,DANIEL'S FIRE, and ROBERT'S SOUL.
THOMAS'S MUSE:
As an undergrad, Sammie Singleton became the muse of an artist she didn't know. But the connection vanished, and now Sammie drowns in the colorless drudgery of corporate America. Lost and abandoned, Sammie longs for the scent of paints, the vibrancy of reds, the soft stroking of a feather brush...
Her world flashes alive the moment she meets Thomas Quidell. Sammie quickly realizes the brilliant and talented Tom is her long-lost artist--and the man she's been fantasizing about all these years.
Tom's touch awakens needs Sammie thought long dead. When he offers a lifeline out of her soul-killing life, Sammie's doubts pull her under. Is she strong enough to find her way back to love?
DANIEL'S FIRE:
The blaze that destroyed Daniel Quidell's firefighting career scarred more than his body. Court cases, therapy, and five pins in his bones later, he's a divorced single father working himself ragged to provide a good life for his son. But the strain leaves him exhausted--and overwhelmed.
Until Camille Frasier walks into his life.
Beautiful and empathic, Camille soothes Dan's mind and eases the pains of his body. But she desires more than a gentle hand to help her body to find its fire. And she hopes Dan will give her what she needs.
But some wounds don't heal correctly. And no matter how much heat Camille offers, Dan feels trapped inside the cold box of his past. Is he strong enough to find his way out?
ROBERT'S SOUL:
Robert Quidell understands the side effects of his bad boy behavior: No bonds. No commitment. No connection. He gives his goddesses one night of wish fulfillment and supernova sex. But he always wakes up alone.
Isolde Wellington understands the life of a photographer: She's outside. Always moving. Always documenting the world. She creates brilliant, soul-melting photos. But she, too, always wakes up alone.
Graduate school promises Rob the opportunity to shed his bad boy reputation. For Isa, the opportunity to crash in her brother's apartment offers a moment of stability.
They never expected to find each other.
But connection means sacrifice. Commitment-free lives offer ease--but no touch. No brilliantly fulfilled wishes. Will Rob and Isa fall into their old ways again, or will they fight for their souls' desires?
My Review:
Not only are these stories hot as all get-up, but they're also emotionally charged. This author writes the way her characters think, adding an extra punch to the story. It really pulls you in and doesn't let go. The intensity is pervasive. Radcliffe's descriptions are so intricate yet vivid that the entire story becomes extremely visual. Not only do her descriptions add to the story but so does her formatting and font. Radcliffe uses these to draw attention and focus to certain aspects of scenes in a brilliant and understated manner that really packs a punch. This author also doesn't just describe her scenes, but rather uses colours and textures and senses to allow her audience to feel and see them. As a reader, you don't feel like a member of the audience, but rather a participant who is actively engaged in this story. This isn't simply a story, but a work of art, weaving the old with the new in a manner unlike any other.
Radcliffe jumps right into the story, immersing you in the main character's aura and her life right from the very first sentence. Switching perspectives between the two main characters really gives you an insight into the entirety of this story. Radcliffe switches in such a way that it is easy for the reader to keep up while maintaining a hint of mystery. This story is extremely raw and real. There is also a sense of urgency in the here and now sparked by the fact that this novel spends its entirety firmly locked in the present tense.
In each of the stories, the female lead has such a vivid imagination that you can't help but love her. The way that she lets it run wild just heightens the experience. Seeing as part of the story is written from her perspective you get a really good sense of who she is, rather than who she pretends to be for the outside world. Her journey of self-discovery and self-worth is out there for all of us to see, even if those around her don't. The male lead is equally well developed, although with a different sense about him. Radcliffe's style of writing switches right along with the switch in perspectives, differentiating between the personalities of the two main characters.
I also found the supporting cast quite captivating. There are a couple that I can't wait to get to know better, even if they are quite well put together in this novel. At the same time, there are other supporting characters that I can't help but hate. They are completely developed as individuals, but as shady ones who don't deserve the time of day. It adds a balance and sense of realism to this novel.
Radcliffe somehow seamlessly merges sass with eloquence in her storytelling. The story is intrinsically artistic while remaining entertaining and exciting. The heat simmering below the surface throughout this novel erupts at the end, causing an epically unexpected ending to this brilliant tale. Radcliffe combines the difficulties caused by our individual pasts with all the possibilities of the future to create an unforgettable tale of love & acceptance.
Book Links