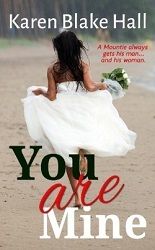 Q ~ Can you tell us a bit about yourself?
I have always lived in Ontario. My husband, my high school sweetheart, and I reside outside of Toronto.
Q ~ What's something that you never leave home without?
A book or my E-reader.
Q ~ If you could have lunch with one person, dead, alive, or imaginary, who would it be and why?
Wow, there are so many I'd love to talk to but I'd have to say Anne Rice. I love all of her books. Her characters have such depth and would be delighted to learn how she develops that.
Q ~ How do you feel about self-publishing?
I'm a blended writer so I'm published by a publisher, The Wild Rose Press, and I'm also self-published. Right now I think authors have so many roads they can take, we can develop our careers to best express who we are.
Q ~ What is your favourite genre to read? To write?

I love reading all genres. My favorite stories have a romantic element. Right now I'm on a paranormal kick.
I write romantic suspense under Karen Blake-Hall and I write paranormal erotica under Kayden Claremont. Both genres are very satisfying to create in. Most people tell me I don't look like a person who would write either genre, so I'm confused as to what I should look like. <grins>
Q ~ How did you begin writing? Was there a single catalyst or a series of events?
I've always wanted to write, but I'm dyslectic so I never thought I could. Then I decided to make it a challenge to get published in spite of my learning disability.
Q ~ What's the best thing that's happened since you began writing? The worst?
The best is when I reader tells you they like the story. That is the most exciting thing in my life. The worst was I had a critique partner who said my stories weren't worth her time to read. When I dropped out of the group she got mad because they couldn't meet at my house anymore.
Q ~ Do you have any writing rituals that you follow? What is your go-to snack while writing?
I play three hands of solitaire, turn on the instrumental jazz music and get down to business.
I love snacking on rice crispy squares.
Q ~ Are you a plotter or a pantser?
I'm definitely a pantser. I love how the story unfolds and I didn't know that twist would happen. I figure if I'm excited about it the reader will be excited too.
Q ~ What is your process for choosing character names?
I grab my baby names book and chose something. Then as I write I always change the name to what is the correct name. I always say my characters chose their own names.
Q ~ What characters did you find yourself especially drawn to and why?
I love kick-ass woman characters. I guess it's because I'm afraid of my own shadow. They are the opposite to me so I always say they are my alter-ego.
Q ~ Of the works you've written, which is your favourite? Is there also a character that holds a special place in your heart?
I love
You Are Mine
. My husband had to go to Yellowknife for work so we decided to take the kids and make it a holiday to Yellowknife and I fell in love with the town, the people and the setting.
Q ~ Do you have anything in the works at the moment? Care to give us a hint about it?
Right now I working on the next books in the
Heaven and Hell
series by Kayden and
Trapped
by Karen Blake-Hall
Q ~ If you could give aspiring authors one piece of advice, what would it be?
Write every day. Even for a few words a day. That way you never lose the story.
About the author:
Karen has been crafting exciting stories of adventure and love of dogs since she was old enough to hold a pencil, but no one could decipher her spelling. Later in life, when she learned how to spell, her stories were better appreciated.
Karen's sharp-bladed fiction cuts to the heart of the emotions driving her characters in desperate situations.
When she's not crafting thrilling romantic suspense stories, she can be found drinking tea with friends, crocheting or making jewellery.
Her husband, The Professor, claims to be the muse for all her stories, and her children, The First Born, His Lady, The Gamer and the Shooter are her biggest cheerleaders.
She is a member of Sisters in Crime International; Sisters in Crime Toronto; Crime Writers of Canada; Romance Writers of America, Toronto Romance Writers and WCDR.
Karen loves to hear from her readers and you can contact her at her Facebook
site
or at her
website
.