Q ~ Can you tell us a bit about yourself?
It depends on which hat I'm wearing! Sometimes I'm not sure. Let me give it a shot. First and foremost, I'm a wife and mother of three beautiful children. I'm also a chemist and chocolate connoisseur. But in my free time, I'm an author. Writing is my escape and a necessary outlet for my overactive imagination. I absolutely love all the different roles I play and each feeds into the other.
Q ~ What's one habit that you have that you'd like to break?
Hyper-focusing. I tend to fixate on things and have a hard time breaking free. This happens frequently when I'm writing. Unless my hubby or kids pull me away, I'll forego food and sleep to write.
Q ~ If you could have coffee (or tea) with any author (alive or dead) who would it be with, what would you ask them, and what would you have?
Coffee, for sure. I'm addicted to it. I would grind coffee beans and set up my percolator for an afternoon coffee break with Nora Roberts. Hers were the first romance books I ever read, and I would love to know which characters were her favorites. Did any one particular couples' story stick with her more than the others?
Q ~ How do you think people perceive authors?
As if we were rich. Haha, I wish that were true! I could stay home and write full-time.
Q ~ Ebooks, paperbacks, or hardcovers?
Ebooks for general reading. Paperbacks and/or hardcovers for those must read over and over books.
Q ~ How did you begin writing? Was there a single catalyst or a series of events?
I read a really, really bad book and commented to my friend that I could write something better. She laughed and said I was dreaming. We made a bet and I was stubborn enough to see it through. I thank her every time I see her for it.
Q ~ Do you have any writing rituals that you follow? What is your go-to snack while writing?
Headphones are a must when the family is home, but otherwise, no. I don't snack, but coffee is a must, especially for all-night writing binges.
Q ~ What are your five favourite verbs to use during a love scene?
Oh, I'm blushing. Umm… the normal I guess—thrust, lick, caress, stroke.
Q ~ Are you a plotter or a pantser?
Plotter. I will let ideas simmer in my mind, then write out a detailed plot before I start writing.
Q ~ Can you tell us a little bit about your latest release Bridged by Love, Kagan Wolves book #1 ?
Bridged by Love is an edgy, darker look at shifter mentality where primal instincts and human motives don't always mesh. Nic is next in line to be the alpha of his pack. As such, he'll house their pack spirit and continue the bloodline of the alpha family, but the only way to produce an heir is by mating a shifter female. It's a fate he's been dreading because he fell in love with Riley, a human, and human-shifter matings are sterile. Bridged tells the journey of Nic's emotional struggle between responsibility and his love for the one female who refuses to give up on them.
Q ~ What inspired you to write The Kagan Wolves series & to develop the world surrounding it?
I got tired of reading all the insta-love shifter books where the wolf/cat/bear recognizes their mate right away. Animals, in general, don't care who they mate as long as their partner is healthy and strong. Love isn't necessarily a motive, but they do form bonds, sometimes ones that last a lifetime. It's that aspect I wanted to explore in shifters. Humans fall in love for a variety of reasons. Male wolves pick the strongest female, then become protective and caring. And when the human side of a shifter falls for a female that isn't acceptable to his wolf? Well, we have Bridged by Love.
Q ~ You've written works outside of this series as well. For you, do they compare to one another? Do you have a favourite or do they all stand out in their own way?
All stand out on their own. I love getting to explore different worlds.
Q ~ Do you have anything in the works at the moment? Care to give us a hint about it?
I always have something in the works! Here's what's coming:
Hunter Sacrificed
(Wild Hunt 0.5) – 11.3.15; this is a free book that's available for pre-order!
Hunter Deceived
(Wild Hunt 1.0) – 12.29.15
Hunter Forsaken
(Wild Hunt 2.0) – 2.16.16
Chance on Love
(Kagan Wolves 0.5) – a bonus read coming soon; this is Sean and Jenna's story
Shared for Love
(Kagan Wolves 2.0) – Hannah's story coming May 2016; this will be my first menage.
And an untitled book 2 for the Elemental Desire series – spring 2016
Q ~ If you could give aspiring authors one piece of advice, what would it be?
Never give up and never stop improving your craft.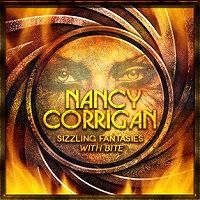 A little about Nancy…
A true romantic at heart, Nancy Corrigan is convinced there's a knight in shining armor for every woman (or man), but you won't find damsels in distress in her stories. She adores pairing alpha heroes with women strong enough to match them and bring them to their knees. She also enjoys flipping the traditional roles in romances because her motto is—love and people should never be forced to conform to anyone's norm.
She holds a degree in chemistry and has worked in research but now focuses on ensuring quality. She considers it the perfect outlet for her as she's the first to admit she has some OCD tendencies. It carries over into her writing life too. While engrossed in a novel, she has a habit of forgetting to eat and sleep. Fortunately, she's married to her own knight in shining armor who understands her oddities and loves her anyway. They reside in Pennsylvania with their three children, dog, snake and guinea pigs. Her other interests include tattoos, animals, classic cars and all things spooky and sexy.
Connect with Nancy…
Bridged by Love, Kagan Wolves #1
Follow his head, he breaks her heart. Follow his heart… he breaks his pack.
From the moment he was born, Nic Kagan's future was sealed. He'll accept a mate, have kids, and eventually take over his father's role as pack alpha. There's just one problem.
Long ago, his heart settled on Riley, the pack's human doctor and honorary member. Except only half of him can have her. The other half—his wolf—won't give a weak non-shifter female a second sniff.
No one—human or shifter—has left a mark on Riley's soul like Nic. But with his father hospitalized, any hope things could work out between them is slipping away. Yet Riley understands something else about pack life. Power isn't always a physical gift; love is just as strong. What she and Nic have is worth fighting for.
With rival threats mounting, Nic realizes he can't simply turn his back on Riley. Though his wolf could tear his heart out for it, he must fight for what he wants before he loses his mate. His pack. Maybe even his sanity.
Warning: Contains a reluctant alpha with only one roadblock between his heart and the woman he loves—biology. And a woman who isn't giving up on him, even if it means risking her life to fool Mother Nature.
Book Links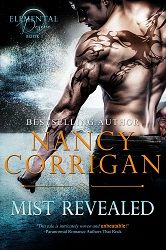 Mist Revealed, Elemental Desire #1
A woman seeking answers…
Cat, a renowned scientist, embarks on a quest to uncover the source of the unknown deadly virus that claimed her sister's life. What she finds is a man shrouded in mystery who manages the impossible—swaying her devotion from logic to passion. But Rune isn't simply a lover. He's a weapon, one that has the potential to save her or destroy her.
A man searching for treasure…
Rune, a child of the mist, awakens into a world hovering on the verge of destruction. Ragnarok is coming. His enemies have been released from their prison. And he's discovered the one woman who can thaw his frozen heart. But the race to stop the final battle isn't the time to fall in love. Or is it?
A discovery that will change everything…
Life evolves, and what was lost can be recovered. But the truth revealed isn't the one Cat or Rune expects. The impossible has become reality. And two lovers must make a choice—adapt or die.
Author's note: Mist Revealed was previously released as Mist Unveiled and has been reedited.
Get the book at…
For other purchase links and to find out more about Nancy's other novels, visit Nancy's website.