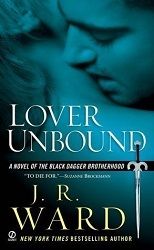 Title:
Lover Unbound
Series:
Black Dagger Brotherhood #5
Author:
J.R. Ward
Publication Date:
September 25/07 by Signet
Length:
502pgs
Genre:
paranormal romance
Shelf:
own
Rating: ★★★★★
Back Cover Blurb:
In Caldwell, New York, war rages between vampires and their slayers. There exists a secret band of brothers—six vampire warriors, defenders of their race. Now the cold heart of a cunning predator will be warmed against its will...
Ruthless and brilliant, Vishous, son of the Bloodletter, possesses a destructive curse and a frightening ability to see the future. As a pretrans growing up in his father's war camp he was tormented and abused. As a member of the Brotherhood, he has no interest in love or emotion, only the battle with the Lessening Society. But when a mortal injury puts him in the care of human surgeon, Dr. Jane Whitcomb compels him to reveal his inner pain and taste true pleasure for the first time—until a destiny he didn't choose takes him into a future that cannot include her...
My Review:
This novel is sinfully hot. Ward has created a novel that brings some of your darkest desires to the forefront in a most appealing way. She goes way beyond that as well, creating a fast paced, action packed tale that kept me on my toes. Ward's voice shines through, painting a picture while sparking my imagination, drawing me deep into the world of the BDB.
V might just be the most complex brother yet. His past, present and future clash with his personality in such a way that each highlight the other. I loved the snarky banter between the main characters. I also really enjoy how this novel is about so much more than simply the main characters. Readers get up close and personal with the entire BDB family throughout, getting to know each just a little bit better. John's story, in particular, really resounds with me. I can't wait to see what kind of a warrior he becomes. Everyone's quirk's and idiosyncrasies make them who they are, and are what I truly love about each of them. And the way that the characters talk is fantastic. It's so real & raw. Even though the characters are centuries old, they speak modernly and keep up with the technology of the times, embracing the present while still honouring the past.
This was a fantastic tale on so many levels. Chemistry, suspense, love, loss, and redemption all make their way into the fantastic story, leaving me with a smile on my face and reaching for the next novel in the series.
Book Links