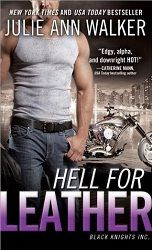 Title:
Hell for Leather
Series:
Black Knights Inc #6
Author:
Julie Ann Walker
Published:
May 6/14 by Sourcebooks Casablanca
Length:
352pgs
Genre:
romantic suspense
Shelf:
own
Rating: ★★★★
Back Cover Blurb:
Only the most urgent crisis could force Delilah Fairchild to abandon her beloved biker bar and ask the surly Bryan "Mac" McMillan for help. Her uncle-the man who raised her-has vanished into thin air, and Mac is the only person with the right connections to help her find him. What the ex-FBI agent has against her is a mystery... but when the bullets start to fly, Mac is her only chance of finding her uncle alive.
Mac knows that beautiful women can't be trusted, but he has to put his natural wariness of Delilah aside in order to help her. With the clock ticking, Mac and Delilah find themselves holding on to each other in the wildest adventure of their lives.
My Review:
Walker's expressive & emotive writing brings this story to life in a huge way. Action and suspense kept me on my toes while the explosive chemistry between the characters ratcheted up the heat of the novel by several notches. The plot was lively & fun, while it also kept me guessing.
I love Delilah! She's the perfect heroine set beside the BKI Alphas. Mac's emotions are so out in the open at times, they were quite unexpected. Together they create an emotionally poignant yet extremely suspenseful pair. Surrounded by the rest of the Black Knights, this cast kept me on my toes. I love how tight they are with one another. I also enjoy how real they are. These characters don't mince words or actions. They are themselves at every turn.
With every novel in the series I fall further and further in love with Walker's larger than life characters. This was a uniquely enchanting tale that I'd definitely recommend to others.
Book Links