Books by Steve Anderson
I love books! I love the way they make me feel. I love how the words paint pictures in my mind and how it's like watching a movie in my head where I get to help cast the characters. The backdrop where the stories take place are also big with me too. They need to excite me as much as the story and connect me to the time and place. As real estate agents say, "Location Location Location!" When John Ford made all those John Wayne movies in Monument Valley with those beautiful blue skies and red rock formations, I don't believe they would have made the same impact if they were filmed on the back lots of Hollywood.
However, good writers know not to over sale it and to give the reader a chance to paint some of that picture. I like writers that rely on the reader's imagination to help move the story along at a respectable pace. Nothing makes a story more personal than the familiarity of something created through the use of your own imagination.
When I sat down to write, 1979 short story collection, I did just that. I used what I loved about books and wrote hoping to conjure the collection's coming-of-age tales into something a reader could relate to with their own history at that age. To pull in those memories and thoughts of how it felt to kiss someone for the first time. Or the feeling of how scared you may have been riding in a dilapidated car going 100 MPH down an old country rode. Or the desire of wanting to appear older than you are and having no one seeing you that way. At that age everything is big and your emotions are raw. You only get to have one "first time" at anything and our coming-of-age years are chalked full of the big ones. I like those stories. We all went through them on our jumbly trip to adulthood and that makes them a universal connector.
The stories in 1979 short story collection are just that! Stories of experiencing life molding things for the first time. And, unless you were raised under a rock, you, the reader, may have shared similar experiences as well. I hope so.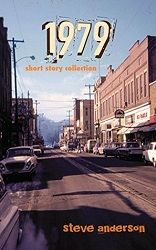 About 1979:
In these thirteen stories, Steve Anderson captures what it meant to come of age in the late 1970s in working-class America. From a family's West Virginia oil wells to trekking through abandoned small-town factories, to a Nevada campground vacation, adolescents find love, strengthen friendships, and create adventures. Each story is tinged with the stark challenges and raw beauty of growing up in a rural, post-Vietnam world of shuttered mills and sprawling train tracks.
Freedom comes from trying to purchase beer underage, stealing a friend's dad's rusted "work" car for a joyride, and using a corrugated tin sheet for racing down a sheer quarry slope. There are stories of first love, captured against desert backdrops and in motel arcades. Most of all, this collection is about finding one's way to adulthood in a richly revealed time and place in America's Midwest.
***
I'd like to thank Jonel for hosting me on Confessions of a Bibliophile and hope to read more about all the wonderful books she brings to our attention.
About the author:
Steve Anderson was raised in the Appalachian foothills of southern Ohio. After earning his degree in Computer Science from the Ohio State University, he later moved to Columbus, Ohio where he now resides.
A musician and indie film maker in his part time, he has written, directed and produced several short feature films that have shown in Columbus movie theaters.
He returns frequently to the hills and valleys surrounding his hometown in southern Ohio where he spends hours biking or sitting and listening to old man gossip in his father's barber shop.
To buy my book, 1979 short story collection, or to just drop me a line to say hi, please visit me at
www.1979thebook.com