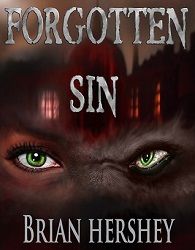 Title:
Forgotten Sin
Series:
Avenging Fate #1
Author:
Brian Hershey
Publication Date:
August 19/14 by McWood Publishing LLC
Length:
267pgs
Genre:
paranormal
Shelf:
review
Rating: ★★★★
Back Cover Blurb:
Dr. Mya Bishop, an expert on medieval mythology and folklore at the University of Cambridge, is more than she appears to be. Cursed, haunted by guilt, and desperate to be free from her terrible past, Dr. Bishop seeks the help of an animal specialist, Marcus Holland, from Australia.

In an attempt to uncover the mysteries behind Dr. Bishop's curse, Marcus upsets the internal balance of emotions and the habits that have kept Dr. Bishop's dark secret hidden from society. No longer able to conceal her true nature from the world, she finds herself facing a new menace that is relentless in pursuing her for one purpose, to kill her.

It's a stunning thrill ride, a tale of ill-begotten revelations and long-lost evil that will have you dreading the glowing night sky.
My Review:
Hershey has taken the world of werewolves by storm and taken them on a completely different journey. The world that he creates is lively and dark. I was impressed by the detail in this story. Everything was fully developed, creating a unique feel to the whole. The dark feel to Hershey's writing sets the tone for the entire story, giving you chills. The dating and timing of the chapters adds to the quick forward motion of the story.
Hershey's uniquely endearing characters definitely made this story. Who they are and what they are were intrinsically linked in this tale. Their unique takes on life combine with their one of kind problems, leading you to a fantastic conclusion.
This was definitely a paranormal tale with a darker twist. Hershey took me on a unique ride that had me on my toes while also creating an entirely new world for readers.
Book Links
"There wasn't a distinct event or person that led me down my literary path. It was more of a collection of little events that added up over a certain period of time."

Brian Hershey initial academic endeavors and pursuits were centered on the field of Education. By 2005 he graduated from The Ohio State University with a degree in Social and Behavioral Sciences and a Master of Education. Teaching Language Arts at a local middle school, Reading to be specific, writing was only a creative escape. Having no intent to pursue it as a career. It didn't become a common practice until after he had started teaching and realized there was a tremendous need for students to be more engaged in their own learning. Hershey wanted to show them that reading and writing was a pathway worth following. His desire led him to seek out The Institute of Children's Literature based out of West Redding, CT, despite being plagued by skill gaps and lack of talent. As he completed the lessons, he realized he was falling in love with words. He was becoming a storyteller, a literary craftsman and his words were his tools.

Hershey has written a teen novel, "Accidental Impact," which he self published and his debut novel "Forgotten Sin," which was traditionally published by McWood Publishing.
Connect with Brian Hershey
Enter to win with Brian Hershey & Forgotten Sin
20 winners will receive a Smashwords copy of Forgotten Sin by Brian Hershey
Contest is open internationally, where applicable by law.
Entries close at 11:59pm August 14/15.
Winners will be drawn August 15/15.
Winners will be notified via email to the email provided to the giveaway and will have 72h to claim their prize or another winner will be drawn.