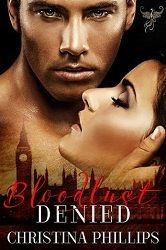 Title:
Bloodlust Denied
Author:
Christina Phillips
Published:
August 6/15 by Phoenix 18 Publishing (1st published June 7/13)
Length:
124pgs
Genre:
historical paranormal romance
Shelf:
review
Rating: ★★★★
Back Cover Blurb:
Tired of the thin-blooded aristocrats in 1815 London, Alexius yearns for better sport. He is drawn to a dark-haired seductress who shows no fear and refuses to obey his commands. Entranced by such novelty, he denies his bloodlust and decides to keep her to warm his bed.
Immortal vampire hunter Morana has never mistaken her prey before, but the dark stranger mesmerizes her, enticing her to forget everything but the dangerous pleasure she finds in his arms.
Neither one can deny the pull of the other, but there is something beyond the lust—a recognition neither can put a name to. The past and present collide and unless they discover the truth behind the lies, Death will triumph once more.
My Review:
This novella radiates sensuality at every turn!
The tone and style in which this novella was written suited the story perfectly. Phillips' unique blend of sensuality and darkness kept me glued to the pages throughout. It felt as if there was a veil of secrecy over the entire story that was slowly evaporating as the characters came closer and close together. The paranormal twist to the characters makes the story stand out and become even more intriguing.
Morana was an intriguing individual. Her unique blend of confusion and self-assurance was one of a kind. To be honest, I didn't know what to think of Alexius throughout most of the novel. He went from domineering to caring throughout. This made it hard to pinpoint his true character. This novella definitely has a light bulb moment when it comes to the characters, and the plot itself. It was fantastic and definitely drew the entire story together.
Once again Phillips has created a hot & bothered story with a strong emotional component. I loved the creativity and the sense of fulfilment at the end (excuse the pun).
Book Links