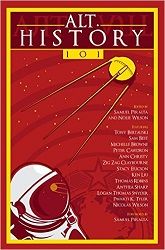 Title:
Alt. History 101
Series:
Alt. Chronicles
Author:
Ken Liu, Samuel Peralta, Peter Cawdron, Thomas Robins, Pavarti K. Tyler, Ann Christy, Michelle Browne, Anthea Sharp, Tony Bertauski, Nicolas Wilson, Sam Best, Zig Zag Claybourne, Stacy Ericson, Logan Thomas Snyder
Published: July 31/15 by Windrift Books
Length: 259pgs
Genre: SciFi
Shelf: review
Rating: ★★★★

Back Cover Blurb:
The future is history... From Samuel Peralta, creator of the bestselling Future Chronicles anthology series, comes a new speculative anthology series that turns the world you know upside down.
In Alt.History 101, thirteen top speculative fiction authors re-imagine the world - as one where the inventor of the smallpox vaccine died before he'd created it, as one where the women's suffragist movement failed to win the right to vote, as one where the death penalty exists but where all forms of capital punishment are ruled inhumane - and ten other compelling stories charting the histories of these worlds.
Enter worlds so much like our own, yet so different - where everything you know... is history.
My Review:
What a fantastic collection of speculative fiction! Each story was well written and enjoyable in its own right. Together they form a whole that really makes you stop and think. The question `what if` takes on a whole new meaning throughout. Not only that, but the stories themselves are captivating and imaginative. The descriptions bring them to life in a manner that makes them a joy to read.
I love how each author takes their own story and weaves an intricate tale that really made me think. At the same time, the entire collection comes together as a whole that I didn`t want to see end. Rarely do you find a collection where all of the stories are fantastic reads, but this is definitely one of them.
Book Links