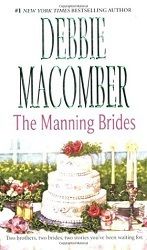 Title:
The Manning Brides
Series:
Those Manning Men #1-2
Author:
Debbie Macomber
Published:
Auguest 1/08 by Mira
Length: 475pgs
Genre: contemporary romance
Shelf:
borrowed
Rating: ★★★★
Back Cover Blurb:
Rich Manning and Jamie Warren have always been friends—and nothing but friends. However, that changes when she asks him to father the child she so desperately wants. Rich agrees—if she'll marry him. Because he thinks their Marriage of Inconvenience could become a real marriage instead.
Paul Manning, a grieving widower with three small children, turns to Leah Baker for help and comfort. When that comfort begins to grow into something else, Paul discovers that he wants more than a Stand-In Wife.
My Review:
The cynical views of relationships that Macomber starts these stories with are akin to those faced by many of us on a daily basis. At the same time, she overcomes them in a realistic and promising manner that gives hope to those of us reading the stories. They're the kind of stories that make you cry happy tears, living alongside the characters as they come to grips with their new realities. The well written, intricately crafted tales are fantastic alone, but unforgettable together.
Rich is a fantastic, down to earth guy. He's a friend in every sense of the world. Jamie is the type of woman who warms your heart and makes you feel welcome in her life. I loved how strong she was, going after what she wanted, regardless of public opinion. Paul's tale, on the other hand, was so emotionally infused that it tugged at my heart a little more with every word. Getting to know him and Leah as they come to grips with their loss was both heartbreaking and heart-warming.
These two stories were poignant counterpoints to one another, Rich's making me laugh, and Paul's bringing me to tears. Through them, Macomber has once again created a work that will leave a smile on your face.