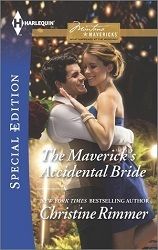 Love Lessons Learned: Real life romance lessons learned from the book by Christine Rimmer
When I think of the love lessons a reader might come away with after reading The Maverick's Accidental Bride, what comes immediately to my mind are some of the insights readers themselves have offered:
"Sometimes you really don't recognize your match until something unusual happens. Maybe the accidental wedding was not that big an accident after all." –Jo (Mixed Book Bag) Goodreads
"I would highly recommend this book to anyone that believes that some things are just written in the stars and when you least expect it fate gives you that love you have been hoping to find." –Kimberly, Amazon.com Reviews
"I loved both of the characters and I enjoyed the way Ms. Rimmer took us down the path of them discovering what their hearts were telling them all along." –Judy, Amazon.com Reviews
And speaking for myself, I would have to say that sometimes an "accident" of fate can turn out to be the best thing that ever happened to you. The hero and heroine, Will Clifton and Jordyn Leigh Cates, have known each other from childhood. Neither is looking for love in the other. But when circumstances force them to spend time together, they finally begin to see what was there all along, that each is the other's true and lasting love. It's not really surprising that friends-to-lovers stories are so popular. Who better to build a life with than a true friend you can put your trust in?
Title:
The Maverick's Accidental Bride
Series:
Montana Mavericks: What Happened at the Wedding
Author:
Christine Rimmer
Publication Date:
June 16/15 by Harlequin
Length:
240pgs
Genre:
contemporary romance
Shelf:
review
Rating: ★★★★★
Back Cover Blurb:
Married by Mistake?
Rust Creek Ramblings
Welcome back, faithful readers! The Rust Creek Rambler has an exclusive for you: Jordyn Leigh Cates has gotten married! That's right, our innocent Jordyn, who came to town a few years back with the Rust Creek Falls "Gal Rush," tied the knot on July Fourth in what appeared to be a very impulsive ceremony.
No one could blame the blushing bridesmaid for saying "I do" to Will Clifton. The sexy, blue-eyed rancher is six feet of pure muscle and charm. But are these two merely love-struck friends who got swept away at someone else's wedding? Our sources suggest otherwise. Stay tuned to find out the true story behind these surprise spouses—and see if they can make it past their honeymoon!
My Review:
I think this is the most fun I've had with a novel in quite a while. Rimmer has created a fantastic tale based on a remarkably one of a kind premise. I laughed, I had tears in my eyes. I really enjoyed being drawn into this town and its happenings. The various different aspects of the stories all melded together in the most intriguing of manners. The premise of the series as a whole was intriguing as well. Although this story was wrapped up nicely in and of itself, I was definitely left wondering what exactly happened at the wedding.
If the plot itself wasn't intriguing enough, the characters had me hooked from beginning to end. Their sweetness and realism, combined with the convoluted situation that they find themselves in was priceless. I loved seeing them come to grips with their real feelings while at the same time dealing with their fears.
This was an intriguing and fun while at the same time in your face and hard hitting. Romance and misunderstanding vie for top spot in this unforgettable romance.
Book Links