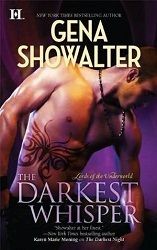 Title:
The Darkest Whisper
Series:
Lords of the Underworlds #4
Author:
Gena Showalter
Published:
September 1/09 by HQN Books
Length:
406pgs
Genre:
paranormal romance
Shelf:
borrowed
Rating: ★★★★★
Back Cover Blurb:
New York Times
bestselling sensation Gena Showalter returns with her long-awaited next installment of the Lords of the Underworld series…
He is the keeper of Doubt and his entire world's about to be rocked.
Bound by the demon of Doubt, Sabin unintentionally destroys even the most confident of lovers. So the immortal warrior spends his time on the battlefield instead of the bedroom, victory his only concern…until he meets Gwendolyn the Timid. One taste of the beautiful redhead, and he craves more.
Gwen, an immortal herself, always thought she'd fall for a kind human who wouldn't rouse her darker side. But when Sabin frees her from prison, battling their enemies for the claim to Pandora's box turns out to be nothing compared to the battle Sabin and Gwen will wage against love…
My Review:
I found this novel a bit slower to start than the rest of the series. Once I got into it though, I couldn't put it down. It was the best yet. Showalter picks up with her usual polished style that lets her fast paced, emotional, yet still hot & adventuresome story shine through. The suspense, both in battle and in the relationship growing between the main characters, tied me to the pages. Not only that, but the world was developed in such a full & in depth manner that I could easily picture myself in it.
Sabin and Gwen may be one of my all-time favourite couples. They are the perfect complement to and counterpoint for each other. Gwen was definitely a unique addition to the cast of characters in this series. She's so different from everyone else, yet completely loveable. Showalter humanized Sabin throughout this novel as well. We get to know him quite well, and I definitely love the side of him we see in this novel. I really liked how we're starting to get to know some of the other Lords better now. Each one has such a different view of the situation they find themselves in based on how it affects them. I can't wait to see how the Cameo-Torin relationship develops later in the series. It's got me quite intrigued. She also gives readers a deeper peak into what it means to be one of the Lords. And don't get me started on the Harpies! Such fantastically comical, yet fear inducing supporting characters.
Will I be reading more from this series in the future? You betcha! Would I recommend it to others? Without hesitation. Showalter has crafted a world that is a joy to get to know.