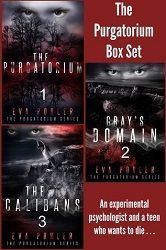 Title:
The Purgatorium Box Set
Series:
The Purgatorium 1-3
Author:
Eva Pohler
Publication Date:
July 3/15
Length:
582pgs
Genre:
YA Suspense
Shelf:
review
Rating: ★★★★★
Back Cover Blurb:
An experimental psychologist and a teen who wants to die...
When seventeen-year-old Daphne Janus goes to what she thinks is a getaway retreat with her best friend and next-door neighbor, Cam, she doesn't know her parents have sent her there as a last-ditch effort to save her from committing suicide. Daphne blames herself for her sister's death and feels she has no right to be alive. Dr. Gray and her staff use extraordinary methods to treat the patients that come to their remote island off the coast of California: they terrify them into loving life, with the theory that the survival instinct overcomes the death wish. Their methods may save countless lives, but do the ends justify the means?
Follow Daphne's experiences through the different levels of the doctor's "games," and decide for yourself.
My Review:
This story had me hooked from the first chapter. This suspenseful and exciting story had me guessing and running alongside the main character, engaged in an unimaginable journey. Pohler's seamless writing and engaging storyline make it very easy to immerse yourself in this atypical story. She presents a well-developed history and mythology of the island that the characters find themselves on. It all combines into an in-depth story that's intensely enjoyable while making you think.
This novel was spooky and eerily entertaining. Pohler's phenomenal descriptions of the natural world leave you breathless while her fantastically imaginative storytelling keep you hooked. The story's smooth forward flow pulls you in. The symbolism behind various aspects of the story adds an extra layer to the tale. Not only is this story suspenseful and grippingly entertaining, it also has a huge psychological impact on the reader. It opens your eyes to the possibilities and realities around you. I repeatedly asked myself if the end justified the means. I found myself laughing regularly. Even when events seem a bit over the top it's still easy to see and feel the real possibility behind it. Pohler also had me crying towards the end of the story. I will warn you, however, that this novel picks right up where the last left off. As a reader you'd be missing a great deal by not reading the first novel in the series first. And it's worth the read.
I really enjoyed the gradual character development, as opposed to a large information dump. You get to know the characters well and personally without feeling like you've read their biography. It all seems so natural. You also get to know the main character even more closely because you are on a journey of self-discovery with her. I really appreciate how the main character grows and an individual. Pohler really lets you get inside her head. You see her weighing the pros and cons, battling her demons, and becoming a more rounded and understanding individual (even if I may not always agree with her decisions). The supporting cast is so varied that there is someone for everyone to connect with, and for everyone to throw a bucket of water at. Everyone was uniquely yet fully developed to create a well rounded cast.
My overall thoughts? Oh. My. Gods. Could you just imagine?
Book Links