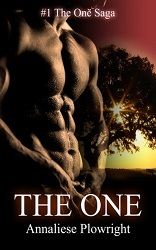 Title:
The One
Series:
The One Saga #1
Author:
Annaliese Plowright
Publication Date:
July 21/15 by Victory Editing (1st published June 12/12)
Length:
244pgs
Genre:
fantasy
Shelf:
Netgalley
Rating: ★★★★
Back Cover Blurb:
After refusing to provide an alibi for her unhinged, tyrannical husband all that Brook Davenport desires is to feel safe - Witness Protection is her only hope.
Moments into her new life on the west coast of Scotland, Brook encounters the staggeringly beautiful and reclusive Arwan Jones...
The distantly familiar, compelling but belligerent Mr Jones seems to take an instant dislike to Brook, until one morning when he saves her life under inexplicable circumstances. Soon after Brook is haunted by a series of vivid dreams and visions all centred round Arwan and a strange nebulous world every bit as mysterious and intriguing as he, leaving her to question who, or what, is Arwan Jones and why does she feel such a fundamental need to be near him?
When their relationship takes a surprising turn Brook resolves to learn the truth about Arwan and what lies between them, while unwittingly becoming embroiled in the sinister goings on of a not so sleepy village.
Will Brook be able to live with the reality that Arwan is no mere mortal; or indeed, the discovery that she has a history of running from her past? And the past has its way of catching up . . .
Blending Celtic mythology, passion and suspense, The One will keep readers who love fantasy romance gripped until the very end.
My Review:
Plowright has definitely created a story and a world that held me captive throughout. Fantasy meets reality in the most intriguing of ways, allowing readers to embark on this fascinating journey alongside the characters. Suspense was prevalent throughout the novel and I found myuself constantly trying to unravel the secrets while being lost in the beauty of the world. Scene and world building dominate the beginning of this novel, taking a while to get to the story proper, but once you do, watch out! And don't expect the story to end with the last sentence in the novel. Yes, this is a complete story in and of itself, with all of the major details and events wrapped up, but Plowright left me dying to know what happens with these characters next. There's a sense that their story is just starting, rather than wrapping up, with the ending of the novel.
Plowright's descriptions brought everything to life, from the paintings on the wall that I could see in my mind's eye, to the natural beauty of the Scottish shores, each aspect of the tale was vividly lifelike. And Plowright didn't stop with her scenery, the characters come to life as well. Arwen's persona permeates every page of the novel, his power dripping from the words as we come to know him. The complex emotions that he portrayed were tangible. Brook's confusion and fear in the wake of her past was compounded by the otherworldly dreams and situations she now finds herself in. Plowright has also created an inviting cast of supporting characters that really made me feel at home in this town.
The mysticism and otherworldly feel of this novel mixed with everyday life in Scotland to create a magical whole. Suspense, danger and fantasy all play a role in this intriguing launch to Plowright's series.
Book Links