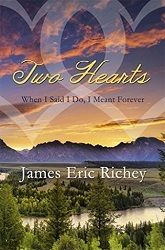 High school friends by James Eric Richey
I went for a walk today with my family, and, as we past one of the high schools in town, someone had written a note in chalk on the sidewalk announcing the 30th anniversary of the 1985 graduating class.
It made me think for the first time in many years, maybe over 15 years, about my friends from high school. Did they ever stop to think about me? Did they ever wonder what I was doing? What were they doing? Where were they all now? I thought of all the promises I had made to my friends that I would stay in touch, which I had never kept.
When I was in high school, my life revolved around my social life—my friends and the things we did together on the weekends. The thought of never seeing them again after graduation had never occurred to me.
But, after graduating from high school, everyone's lives change dramatically. People move away to college, away from their hometowns, and they get jobs that take them to different locations. Their lives get busy with married life, children, jobs, schooling, traveling, and hobbies.
Life is like a tree and sometimes it needs to be pruned to make it survive, sometimes it survives on its own, and sometimes even if you water it enough it still dies. Are we willing to put in the work necessary to remain friends after high school? Are they also willing to put in the work to remain friends? With all of the technology we have these days, it seems like it would be easy to stay connected with old friends, but in reality, it takes just as much work as anything else worth having in life does. Most of the time, our lives take different paths which separate us from the people we knew in high school.
Life doesn't end after graduation, just a new chapter in our lives begins. We make new friends and have new experiences. It's actually amazing that at times, when you run into a friend from the past, things just naturally pick right back up where they left off the last time you saw them.
Friends from the past are still our friends that we can laugh with and cry with. Graduating from high school and moving on to college, a new town, or a job, is a natural process of growing up and maturing. It doesn't change who we are, it expands who we are, making us a more well-rounded person, full of new knowledge and experiences. Don't fear change, embrace it.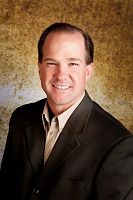 About the author:
James Eric Richey was born and raised in California. He attended Brigham Young University, studying English with an emphasis in Literature. After graduating from BYU he returned home to California to further his education by attending law school. After passing the bar, James practiced in California for several years, but he quickly learned that he did not have a passion for the law.
In 1998 James obtained his real estate appraiser license, which has given him a flexible work schedule and allowed him to pursue his true passion, writing books. Besides his writing, he also enjoys reading, running, and sailing. James currently lives in Cheyenne, Wyoming, with his wife, Heather, and their two daughters.
Connect with the author:
Website
~
Twitter
~
Facebook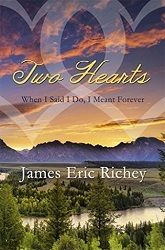 Title:
Two Hearts: When I Said I Do, I Meant Forever
Author:
James Eric Richey
Publication Date:
December 23/14 by JER Bookds
Length:
355pgs
Genre:
women's fiction
Shelf:
review
Rating: ★★★★
Back Cover Blurb:
Jaxon Tagget is a cattle-rancher's son, born and raised on the Double T, just outside of Dillon, Montana. In love with his high-school sweetheart, Annie, Jaxon proposes on graduation night, presenting her with a wedding ring made from gold he mined himself. Annie accepts immediately, to the horror of her bitter, man-hating mother.
Jaxon's a wonderful husband, but the warnings of Annie's mother linger in the young bride's ears. And it doesn't help that women continue to fall all over the markedly handsome Jaxon.
Unaware of his wife's persistent doubts, Jaxon is struggling with his own troubles when he finds out his dad is sorely in need of money to save the ranch. But hope glimmers gold when he rediscovers the old mine on the Double T.
While Jaxon travels to verify the mine's productivity, Annie grows increasingly suspicious. Is Jaxon's absence what it seems, or does he have another, less faithful reason for his travels? When Annie sees a picture of the beautiful laboratory owner whom Jaxon is visiting, she's sure the only gold he's interested in is long, blond hair. Is Annie right, or will it be her doubts that forever sever their Two Hearts?
My Review:
This was a nice, quiet read with a lot of heart. Richey weaves real romance with the trials of real life in such a manner that I couldn't help but enjoy it. He also adds some unique plot twists that give the story a bit of a kick. I enjoyed the underlying moral of this tale, and the fact that it was subtle. It added that extra 'umph' for me.
I fell in love with Jaxon throughout the novel. It wasn't a quick love at first read, but a gradual one growing throughout. He was such a genuinely warm and caring guy. I'll fully admit, however, that there were a few times that Annie grated on my nerves. I kept wondering why she'd gotten married at all if she distrusted her husband so much. I know there were reasons for it, but I kept thinking 'he doesn't deserve this.' But even with this you could actually see the real love between these two. The deep connection that they shared, the one that transcends doubts, was truly heart-warming.
This was an enjoyable, light read that I am glad to have read. You so rarely find this kind of love in literature that it was a great change of pace.
Book Links
Amazon.com
-
Amazon.ca
And be sure to enter this fantastic tour wide giveaway!
a Rafflecopter giveaway