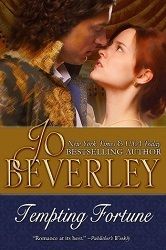 Title:
Tempting Fortune
Series:
Mallorens & Friends #2
Author:
Jo Beverley
Publication Date:
July 12/13 by ePublishing Works!
Length:
405pgs
Genre:
historical romance
Shelf:
borrowed
Rating: ★★★★
Back Cover Blurb:
Tempting Fortune brings together an impoverished noblewoman and a notorious gamester. Bestselling author Jo Beverley's scandalous new novel of Georgian England is a seductive story of sin and redemption...

In a night shimmering with destiny, Portia St. Claire discovers that her brother's debts have made him a prisoner of dangerous men. The price of his life is her virtue--about to be auctioned off in London's most notorious brothel.

Enter a dazzling midnight world of seductive lies and tender betrayals, where lords and ladies engage in forbidden liaisons. And where mysterious, handsome Bryght Malloren opens Portia's heart to a sensuality that tempts her to madness...
My Review:
This was a fun and romantic story that is completely unpredictable and wildly original. Beverley takes readers back in time on one heck of a journey through London as her characters tug at your heart. The suspense in this one is of a much more personal nature than one would generally expect. Virtue & honour are what must be saved, while at the same time chemistry rules the day.
I love Bryght. He's so much fun. His rakishness combines with his good heart in an intriguing combo. Pitted against Portia, a much more uptight version of himself, and you can expect comedy, passion, romance, and genuine caring between these two characters who stole my heart. And let's not forget the supporting cast that Beverley populates her novel with. Each was developed in a manner that furthered the novel while also allowing you to get to know them personally.
Beverly has created another unforgettable novel here. This isn't necessarily a fast paced novel, but it is enchanting from cover to cover.
Book Links