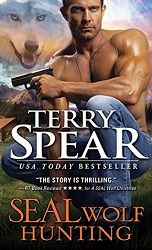 Title:
SEAL Wolf Hunting
Series:
Heart of the Wolf #16
Author:
Terry Spear
Publication Date:
July 7/15 by Sourcebooks Casablanca
Length:
384pgs
Genre:
paranormal romantic suspense
Shelf:
Netgalley
Rating: ★★★★
Back Cover Blurb:
Paul Cunningham is one of the only bachelors left on the SEAL wolf team, and he's less than thrilled to hear he's been volunteered for a local charity bachelor auction.
Lori Greypaw suspected that her grandmother would use the auction as an opportunity to fix her up. So she's not surprised when she "buys" Paul to help Lori renovate her mountain cabin for a week. Lori's had a crush on the sexy SEAL wolf for years, but he proves to be handy with more than a hammer when two fugitives come knocking and he'll do anything to protect the woman he's falling for...
My Review:
This novel was comically outrageous at times and emotional and thought provoking at others. Spear takes her readers on a high speed, intensely enjoyable ride that I won't soon forget. The action scenes are just as vivid as the erotic ones, and romance hand friendship shine through at all times. All the while, Spear builds her world right before the audience's eyes, without ever hampering their imagination.
Spears' hot headed yet family oriented characters had me hooked. You can really see their animal and human sides shining through. It was a complex and rewarding mix. I loved how neither outshone the other. And the characters' personalities themselves drew me in. I couldn't have imagined a better couple to carry this story off. I fell completely in love with both of the main characters. Their pack drew me in as well. The thought of a 'safe haven' was perfect. The growing pack was great as a whole. The way that Spear had certain individuals stand out in the crowd was so realistic & lifelike. I can't wait to get to know more about them. The spirit guide animal was an extra twist that really allows these shifters to stand out among the sea of shifter novels.
Fantastic addition to the series but can also easily be read as a standalone. I had a smile on my face throughout, even when the suspense had me on edge.
Book Links