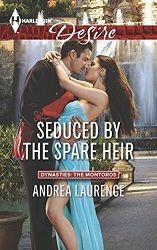 Title:
Seduced by the Spare Heir
Series:
Dynasties: The Montoros #3
Author:
Andrea Laurence
Publication Date:
July 1/15 by Harlequin Desire (July 7/15 for paperback)
Length:
192pgs
Genre:
contemporary romance
Shelf:
Netgalley
Rating: ★★★★★
Back Cover Blurb:
Going from black sheep to king, with the help of one very special woman…
Gabriel Montoro's worst nightmares are realized when his older brother abdicates the throne of Alma, leaving fun-loving playboy Gabe next in line. Now he needs to shape up—fast. That's where Serafia Espina fits in.
The exquisite ex-supermodel can school him in the social niceties. But as they get into the royal routine, Gabe begins to see this old family friend in a very different light. Soon the protocols are out the window, and Serafia is sharing his bed. But is this angel hiding something that could threaten what they've begun?
My Review:
Combine I series I'm loving with an author I avidly watch for and what do you get? A novel I simply couldn't resist. Laurence returns with her readers to Alma, giving us a sneak peek at the lives of the royalty. She combines realistic, real life characters with situations that many of us would never live. I loved the combination of everyday with the foray into royalty, the romance combined with family. The plot itself was original and kept me hooked.
I thoroughly enjoyed Laurence's character development. These individuals were so lifelike, yet at the same time larger than life. The way that they grew as individuals throughout, combined with the choices that they made were things that were easy to relate to while also making them stand out. Their atypical responses to situations were at times comical, creating a bond between character and reader.
Not only is this novel a fantastic addition to the Montoros series but it's also a great idea in and of itself.
Book Links