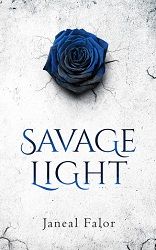 Title:
Savage Light
Author:
Janeal Falor
Publication Date:
February 24/15
Length:
267pgs
Genre:
YA Fantasy
Shelf:
Review
Rating: ★★★
Back Cover Blurb:
Marsa has always struggled with the fact she goes unnoticed. Her best friend is the one chosen to rid the world of all evil; the man Marsa loves barely knows she exists; and her sole remaining family member dies at the hand of the last evil man in the world.
When all evil is finally defeated, Marsa thinks she'll at last have the life she wants, even if her mother isn't there to share it with. And maybe she'll discover the love of her life loves her back. Only a new quest is set before her and her friends. By the end of their journey, Marsa will question everything she knows. She'll have to redefine how she wants others to notice her, before their entire world is destroyed.
My Review:
Falor's polished writing really shines through in this unique tale. She takes the idea of dark vs light and gives it a twist. It is a complex tale of good vs evil, but is also a quick, light read. The plot is well crafted, taking readers on an unexpected journey. Falor evokes readers' emotions throughout, giving you a chance to feel your way through tale. I found that world building was quite dependent on the previous novel, however other than that this could easily be read as a standalone.
Falor has created some characters who will evoke some very strong emotions in the reader. And the way that they are presented was very intriguing as well. Being told from the 'POV' of the best friend really set this one apart in the genre. The division of good vs evil, however, may have been a bit overdone. There wasn't a single character who even toed the line. Everyone was one or the other.
This was an intriguing and enjoyable companion to Falor's previous novel. I loved seeing the action from the point of view of the 'underdog', for lack of a better word.
Book Links