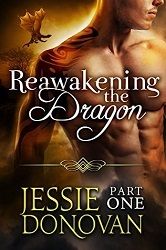 Title:
Reawakening the Dragon part 1
Series:
Stonefire Dragons #14
Author:
Jessie Donovan
Publication Date:
July 21/15 by Mythical Lake Press
Length:
58pgs
Genre:
paranormal romance
Shelf:
review
Rating: ★★★★★
Back Cover Blurb:
Tired of reporting but never investigating, Jane Hartley is determined to expose the truth of the Carlisle dragon hunters. While meeting with one of her sources, she spots the tall, blond dragonman she saw three months ago back on Stonefire. When the dragonman warns her off, Jane becomes more determined than ever to find the truth before he does.
With most of the threats to his clan under control, Kai Sutherland wants to find a way to take down the Carlisle hunters for good. In the beginning of his investigation, he sees the human female his dragon wants. Putting aside his own needs, he tries to scare her away to focus on the hunters, but the female refuses to go.
As they work together to discover the hunters' secrets, the attraction between them threatens the investigation. Kai never expected to find his second chance, yet as the danger amps up, can he find a way to have her while still protecting his clan?
15,000 words (estimated) / 18+, explicit language and sexual situations / Cliffhanger
My Review:
I love how the authenticity and in depth development of the background of the story mixes with the supernatural reality that the characters live. The dragonshifters really step it up a notch in this one. Kai's latest mission really has me intrigued, even if it's all going skewbald already. Donovan mixes action, suspense, and comical interludes in such a natural manner that I couldn't put it down.
Donovan's inviting yet snarky style really brings her characters to life. It's as if I can really feel them, allowing me to know them on a much deeper level. The Kai-Jane dynamic was absolutely priceless. The aura about them is unforgettable and infused with unmistakable chemistry.
This novella is a fantastic start to the latest serial in Donvan's Stonefire Shifters series. She left me feeling simultaneously fulfilled and dying for more.
Book Links