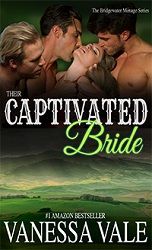 Q ~ Can you tell us a bit about yourself?
I write Historical Western Erotic with steamy hot cowboys and women who love them. While I do write erotic, I do have a bit of a moral streak in my stories. None of my books have any kind of hanky-panky until they are married.
Q ~ What's one habit that you have that you'd like to break?
I talk really, really fast and I'd love to be able to talk slower. I also crack my knuckles but the chances of me ending that habit are slim to none!
Q ~ If you could go anywhere, real or imagined, where would it be and why?
I'd like to ride the Orient Express. Perhaps not the present version, but the one in your mind that has all the fancy details, delicious food and linens.
Q ~ Ebooks, paperbacks, or hardcovers?
I like all three. I like an ebook for travel and I love to go to the library and choose a real tangible book.
Q ~ How did you begin writing? Was there a single catalyst or a series of events?
It was a dare. How hard can it be to write romance? Ha!
Q ~ Do you have any writing rituals that you follow?
I like to sprint write. I connect with a fellow writer and share our word tally, then write for thirty minutes straight, then share our word tally again. This is a ritual and definitely motivating!
Q ~ What are your five favourite verbs to use during a love scene?
Wow, this one's tricky! Thrusting. Plunging. Savoring. Craving. Needing.
Q ~ When you write, do you try to reach a specific word count or simply write until you are done?
When I sprint write, I try to get in as many words as I can. Usually I write until I'm interrupted by life.
Q ~ Can you tell us a little bit about your latest release, Their Captivated Bride, and what inspired you to write it?
Their Captivated Bride
is Book 3 in the Bridgewater Menage Series. It takes place in Montana on a ranch where menage is the norm. Cowboys with honor, intergrity and very specific needs find their brides. Since I write fantasy, why stop at one cowboy when you can have two (or three as in Their Captivated Bride)?
Q ~ What was the most difficult part of the process while writing Their Kidnapped Bride?
Three men!
Q ~ What characters did you find yourself especially drawn to and why?
While the men are strong and protective, they have their own weaknesses and I always try to make sure those come across in my books. So in Their Captivated Bride, I really love Simon.
Q ~ You've written works outside of this series as well. For you, do they compare to one another? Do you have a favourite or do they all stand out in their own way?
I think they all stand out. Each couple, as I said before, wait until marriage to consummate their relationship and the buildup to this is always so steamy. I like the spark that happens between each couple and then building it throughout the story. If I had to pick a book, I'd say The Lawman.
Q ~ Do you have anything in the works at the moment? Care to give us a hint about it?
Sweet Justice
comes out on July 27 (very soon!) and is about a Bounty Hunter and his 'catch'!
Q ~ If you could give aspiring authors one piece of advice, what would it be?
Write. Get your rump in a chair and just do it. Then do it again.
About the author:
#1 Amazon Bestseller Vanessa Vale writes escapist fantasy (aka erotic romance) in the form of historical westerns. Everyone loves a cowboy--at least she does! A cowboy who knows what he wants and isn't afraid to take it. Oh yeah.
She lives in the West where she has lots of subject matter to drool over...
Connect with the author
"When it was three against one, I was always going to be overwhelmed."
The Bridgewater way of two men marrying one woman is uncommon in the Montana territory. But three men marrying one woman? That is unheard of, especially for beautiful Olivia Weston. Her fate, it seems, will have her married to one man – a man she doesn't love.
But when her betrothed treats her in a cruel manner, she rejects him and not long afterwards catches the eye of three handsome and virile ranchers. Cross, Rhys and Simon are as different as three men can be. But they have one thing in common; they are determined to offer Olivia the protection of marriage and the promise of endless carnal pleasures.
Olivia worries that her instant attraction and hasty agreement to marry three men stems from a defect in her character. What kind of woman not just love three men, but make the most intimate parts of herself available to their lustful attention? The chemistry between them is like lightning. Can she deny it? Or will Olivia submit to become the most sated Bridgewater wife in this ongoing ménage series?
Book Links