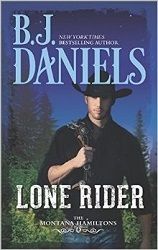 1.) What is Bo Hamilton up to these days?
Bo has been under a lot of stress. We don't find out why until LONE RIDER.
2.) Without giving away too much, what's your favorite scene in the book?
Ever cuddled up with someone you love in a makeshift shelter in a snowstorm? That's all I can say about that.
3.) What type of lover is Jace?
That's pretty personal. He is the kind of man who takes making love seriously. He is the kind of man who will always be there for the woman he loves – even for a woman who broke his heart.
4.) Where would Jace and Bo run away to elope?
Hawaii
5.) How far in advance do you plan out your stories?
Seconds. Seriously. I'm a seat of the pants writer. I never know what is going to happen until I put my fingers on the keyboard. It's very exciting for me – and terrifying.
6.) Did you do a character sketch of the sisters before you started this series?
Nope. It's that seat of the pants thing. But I did have a sense of each of them.
7.) If you could choose any literary heroine that is most like Bo, who would it be?
Scarlett O'Hara. Like Scarlett, Bo is strong and determined. She passed up a chance at happiness with the man who promised her undying love. But unlike Scarlett, Bo won't make that mistake twice.
8.) Has the Hamilton family dynamic changed since the last book?
Definitely. Little did the Hamiltons know just how many secrets there were in their family. As each secret comes out, the family grows closer.
9.) Can you give us any hints for upcoming characters/suspenseful scenes?
The mystery surrounding the sisters' mother, Sarah, continues. There will be lots of surprises including dead bodies as each sister grows and falls in love. Ultimately, it will all bring the family closer together.
10.) What are you working on next?
The next book in the series is LUCKY SHOT (December). Kat, the prickly sister who speaks her mind, will meet her match in Max, a reporter/photographer who will bring her out of her shell.
In HARD RAIN (March), Harper and Brody McTavish finally get a chance for romance – unless the secret between their families drives them apart.
In the next two books after that, sisters Cassidy and Ainsley will get their chance for happiness with mystery men – and the biggest secret – their mother Sarah – will be solved.
About the author:
B.J. DANIELS, a USA Today and New York Times bestselling author, wrote her first book after a career as an award-winning newspaper journalist and author of 37 published short stories. That first book, Odd Man Out, received a four and a half star review from Romantic Times magazine and went on to be nominated for Best Intrigue for that year. Since then she has won numerous awards including a career achievement award for romantic suspense and numerous nominations and awards for best book. Daniels lives in Montana with her husband, Parker, and two springer spaniels, Spot and Jem. When she isn't writing, she snowboards, camps, boats and plays tennis. She is a member of Mystery Writers of America, Sisters in Crime, Thriller Writers, Kiss of Death and Romance Writers of America.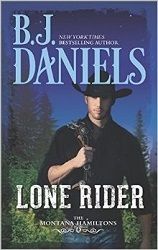 Title:
Lone Rider
Series:
The Montana Hamiltons #2
Author:
B.J. Daniels
Publication Date:
July 28/15 by HQN Books
Length:
336pgs
Genre:
western romantic suspense
Shelf:
review
Rating: ★★★★★
Back Cover Blurb:
When danger claims her, rescue comes from the one man she least expects...
A cowgirl at heart, Bo Hamilton does her best thinking in wide-open spaces. So when money goes missing from the family foundation she runs—meaning one of her trusted, ragtag employees is a thief—Bo rides into the Crazy Mountains to figure things out. But a killer hiding among the sawtooth ridges takes her captive…and isn't planning on ever letting her go.
Bo's disappearance gets folks thinking she's the guilty one run off with the money, but Jace Calder would bet his ranch that she's innocent. Not that he has any reason to trust the beautiful, spoiled senator's daughter. But she also gave his troubled sister a job when no one else would. For his sibling's sake, Jace is going after Bo and bringing her home to face the truth. But in the wild, rugged Crazy Mountains, he finds Bo at the mercy of a suspected murderer. As her only hope, Jace is about to find out what they're both made of.
My Review:
Hot cowboys, suspense that will leave you reeling, and romance that will last the ages: what more can you ask for? This fast paced and suspenseful novel had me hooked from cover to cover. Daniels has created an in-depth and complex novel that left me guessing throughout. She also left me guessing at the end. I love how the overarching plot of the series weaves together with the plot of this novel itself.
The intertwining lives of the characters lead to a complex storyline that kept me on the edge of my seat. I was instantly drawn to Jace, the way he weighs the pros & cons & goes with his gut. Bo's need to prove herself, even if only to herself, made her an individual that I could easily identify with. The supporting cast also plays major roles in the tale. The well rounded development of these individuals creates a realistic and lifelike backdrop for the story and really drew me in.
Once again Daniels has created a western romantic suspense that I will never forget. This is the type of novel that when you finish it you just hold it to your heart for a minute and smile.
Book Links