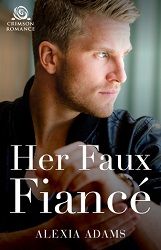 Title:
Her Faux Fiance
Author:
Alexia Adams
Publication Date:
July 7/15 by Crimson Romance
Length:
200pgs
Genre:
contemporary romance
Shelf:
review
Rating: ★★★★
Back Cover Blurb:
As a combat photographer, Analise Thordarson has seen things through her lens that no one should. But it's the personal losses that brought her home to Canada and her widowed grandfather, whose stables are facing foreclosure.
Hotshot corporate lawyer Erik Sigurdson breezes into town with two things on his agenda: to avenge his sister's death and survive a two-week family reunion. Reuniting with his ex, Analise, is not part of the plan, but she just might be his salvation.
If she'll pretend to be his fiancée, he'll lend her the money to pay off her grandfather's debts. But when their fake engagement is complicated by a very real pregnancy, Analise and Erik must sort out just who is using whom and if this faux relationship could lead to a real future.
My Review:
The plot of this novel had me giggling from the back cover blurb right to the very end. The intricate twists & turns throughout kept me on my toes, and forever changed the lives of the characters. The Canadian, small town setting was brought to life in a vividly picturesque manner, allowing readers to easily picture themselves there. A strong cultural and familial presence could also be felt throughout, bringing this small town to life on many scales.
Strong, captivating characters fill this novel with the type of people that you want to get up close & personal with. The larger than life main characters wiggled their way into my heart through their various trials and difficulties. I enjoyed seeing them try to fix what they could in the lives around them with little to no worries about themselves. Their second chance together, although not what one would expect, was a fantastic exploration into who they really are.
As a whole, this was an enjoyable novel that kept me on my toes. I thoroughly enjoyed getting to know the characters and had a blast with their stories.
Book Links