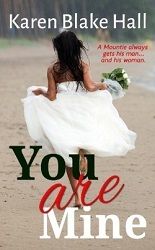 Why I Chose a Canadian Setting by Karen Blake Hall
Have you ever traveled to someplace and felt like you had come home? Like you belonged there your whole life? I have.
My husband had to go to the Northwest Territories on business and we decided to make it a family vacation. The cost of taking the whole family on this trip was very expensive, but we decided it would be great to show our children a part of Canada we had never seen.
It was the best decision we ever made. From the time we climbed out of the plane at the Yellowknife airport till we boarded the flight to go home, it was truly an amazing experience. We marveled at the dwarfed trees, the rock outcroppings and the quaint small town feeling. The people welcomed us as if we were family and I felt I had lived there my whole life.
We walked all over Old Town and ate at Wildcat Café and Bullock's Bistro, both log cabins. They were colorfully decorated inside, and we feasted on Elk Stew, Muskox Stew, Arctic Char and Buffalo Burgers. The best food we've ever eaten. We drove down the famous Ragged Ass Road, named by Lou Rocher and his friends after a night of drinking, and featured as the title of an album by Canadian singer Tom Cochrane.
Next we tried our hand at catching our own supper by doing a fishing charter on Great Slave Lake. No sooner had we dropped our lines into the water then we had large lake pickerel on our hooks. We dined on fresh lake pickerel, baked beans and fresh bread.
Sitting at the top of the outcropping at the Bush Pilots Memorial, looking over Old Town, New Town, Back Bay, Jolliffe Island, I fell in love with Yellowknife and realized that this town needed to be featured in a story. When I went for a chartered flight over Cameron Falls the story formed in my mind.
You Are Mine is set in a fictional town of Jackson's Inlet, but it's based on Yellowknife. Single mother, Molly Jackson, wants to run the family freight business in the North West Territories and take care of her daughter and grandfather. When creepy letters start to arrive she knows she has a stalker. Can she protect her loved ones when she's not sure she can protect herself?
When Gramps ask RCMP officer Brock Kingston to come home, he can't refuse the man who took him in. Now he has to return home and save the woman who broke his heart.
Will their rekindled love survive when the truth is revealed?
About the author:
Karen has been crafting exciting stories of adventure and love of dogs since she was old enough to hold a pencil, but no one could decipher her spelling. Later in life, when she learned how to spell, her stories were better appreciated.
Karen's sharp-bladed fiction cuts to the heart of the emotions driving her characters in desperate situations.
When she's not crafting thrilling romantic suspense stories, she can be found drinking tea with friends, crocheting or making jewellery.
Her husband, The Professor, claims to be the muse for all her stories, and her children, The First Born, His Lady, The Gamer and the Shooter are her biggest cheerleaders.
She is a member of Sisters in Crime International; Sisters in Crime Toronto; Crime Writers of Canada; Romance Writers of America, Toronto Romance Writers and WCDR.
Karen loves to hear from her readers and you can contact her at her Facebook
site
or at her
website
.