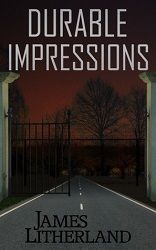 Title:
Durable Impressions
Series:
Slowpocalypse #0.5
Author:
James Litherland
Publication Date:
January 28/15 by Outpost Stories
Length:
36pgs
Genre:
Dystopian
Shelf:
review
Rating: ★★★
Back Cover Blurb:
—From Protected to Protector
As civilization has slowly crumbled, Katherine Miles has led a life of privilege—but also one of preparation. Now, under the ominous shadow of a society coming apart at the seams, her mettle will be tested for the first time.
This prequel short story is a triptych portraying how Kat became a hero.
My Review:
This is an intriguing introduction to Litherland's Slowpocalypse series. Readers come to know the characters and their backstory. He also does a great deal of world and history building here. I really enjoy being immersed in the world that he's created. It's so vivid & believable, yet at the same time completely dystopian.
It was intriguing to know the why & how behind the series, but it also brings new readers to the perfect entry point. Personally, I feel as if this would have had more impact as a prologue in the 1st novel. I was really getting into it and then it was over. However, it was quite informative in and of itself. It really fills in the background information for the series as a whole. It was also a quite enjoyable read on its own, setting you up for the series as a whole.
Book Links