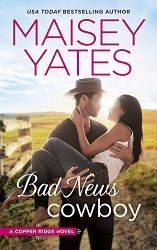 Title:
Bad News Cowboy: Shoulda Been a Cowboy
Series:
Copper Ridge #3
Author:
Maisey Yates
Publication Date:
July 28/15 by HQN Books
Length:
512pgs
Genre:
contemporary romance
Shelf:
Netgalley
Rating: ★★★★
Back Cover Blurb:
Can the bad boy of Copper Ridge, Oregon, make good—and win the rodeo girl of his dreams?
Kate Garrett keeps life simple—working hard, riding her beloved horses, playing cards with her brothers. Lately, though, she feels a bit restless, especially when family friend Jack Monaghan is around. Sexy and shameless, Jack is the kind of trouble you don't tangle with unless you want your heart broken. Still, Kate could always use his help in learning how to lasso someone a little less high risk…
Jack can't pinpoint the moment the Garrett brothers' little sister suddenly stopped seeming so…little. Now here he is, giving flirting tips to the one woman who needs zero help turning him on. Love's a game he's never wanted to play. But he'll have to hurry up and learn how before the best thing that ever entered his life rides right back out again…
My Review:
Life, love, and rodeo come to life in this fantastic tale by Maisey Yates. She brings Copper Ridge to life in a big way, allowing readers an inside peek at what goes on deep inside the lives and minds of her characters. Building on what's come before it in the series, she continues to develop her characters in such a manner that they pull at your heart and become part of your life, while at the same time, creating something magical.
Kate & Jack's individual struggles with their pasts and where they come from add an element of complexity to their relationship that I wondered if they could ever overcome. Kate's outlook on life is a thing to behold. She's so gung-ho & all or nothing that you can't miss her mark on the world. The reason behind it, however, simply broke my heart. This was directly contrasted by Jack's n'er-do-well attitude that hid the hurt of where he came from. Surrounded by their friends and family, these two made a shockingly perfect couple who definitely deserve their happily ever after.
Yates has once again created a heartfelt novel that had me from beginning to end. It's one of those romances that leaves you guessing, while knowing the characters must somehow achieve their HEA.
Book Links