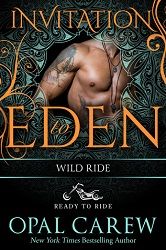 Title:
Wild Ride
Series:
Ready to Ride #2/Invitation to Eden #17
Author:
Opal Carew
Publication Date:
September 16/14 by Opal carew
Length:
150pgs
Genre:
contemporary romance
Shelf:
own
Rating: ★★★★
Back Cover Blurb:
Her friend told her dreams come true at Eden, but this is more like a nightmare.
Marissa is shaken when her bad-assed biker ex-boyfriend shows up at her door. She doesn't let him in—she's no fool—but now she's being stalked by a man she thought she'd left in the past. When her friend receives an invitation to an exclusive resort called Eden, but can't go because of work commitments, she talks Marissa into taking the trip. It will take her far away from her now-turned-stalker ex-boyfriend and give her a well needed rest. But she finds that even in paradise she can't escape the man from her past. On a trip to a little town near the resort, she spots him watching her. When he strides toward her, she dodges down a side street, her heart pounding. A passing stranger on a motorcycle pulls up and, seeing her panic, commands her to get onto the bike. She doesn't know why she trusts him—maybe just any port in a storm—but she jumps on the stranger's bike and he takes off. Now the chase has begun. Her knight in supple leather knows how to ride and they manage to lose her ex. For now. But soon, Marissa wonders if she's jumped from the frying pan into the fire as she clings to the tough, tattooed man who saved her. All she knows for sure is – it's going to be one Wild Ride!
My Review:
Once again Carew has created a hot and exciting read about discovering one's true self and what you really want. She brings a highly sexual story to life in a vivid way that kept me engaged throughout. Not only that, but there was so much more to the story than just sex. It was a heady and enjoyable mix.
Carew's realistic characters really draw you into their hot and steamy story. No one's quite who they seem, yet they're also exactly who they try to be. Not only are the characters unforgettable, but their relationships with one another really make the story. I appreciated the attention to detail with respect to their development. The little things are just as important as the big ones.
I thoroughly enjoyed this novella. Carew combines bikers, life, and hot sex in a manner that's hard to put down. It's definitely a story well worth reading.