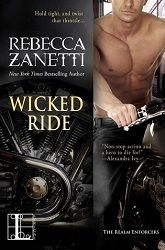 Title:
Wicked Ride
Series:
The Realm Enforcers #1
Author:
Rebecca Zanetti
Publication Date:
June 23/15 by Lyrical Press
Length:
279pgs
Genre:
paranormal romance
Shelf:
Netgalley
Rating: ★★★★
Back Cover Blurb:
If you love the Dark Protectors, these wicked hot Realm Enforcers are for you!
Alexandra Monzelle is a hard-fighting, heat-packing Seattle vice cop, and she's not much interested in being protected. Her short skirt and sex-kitten heels are tools to lure her suspects into talking about the deadly new drug hitting the streets. She can take care of herself and then some. Unfortunately, she can't seem to get that through to Kellach Dunne.
Kellach is a fresh import from Dublin, and he's landed at the heart of a vicious motorcycle club that deals in guns, narcotics, and mayhem. He's all male, all rough power—and all interference in her damn investigation. Maybe he's one of the good guys. Maybe not. Lex knows an affair with an immortal like him would risk everything. No matter how delicious he looks…
My Review:
Zanetti launches her new series with a definite flair. She develops the world surrounding the enforcers in a vivid manner that allows you to picture it all happening right next door to you, all the while staying hidden and secret. The story was fast paced and unforgettable, creating suspense and heat that you can't miss. At the same time, she develops the backdrop for the series as a whole. This story was fantastic in and of itself, but also the perfect lead in to the new series.
The characters in this novel definitely filled their roles well. Kell's overbearing, protective nature was tempered by his desire to make the relationship work. Topped off with his ultra-sexy persona & appearance, he was the ultimate Alpha enforcer. Lexi's hot and cold indecision was understandable based on her past, but at the same time, it gave me whiplash. She was all over the place with her beliefs and trust. The contrast between cop & mate was wrapped up perfectly in this character. Zanetti doesn't stop with these two either, developing a large supporting cast who were all just as real to me.
This novel was a fantastic start to Zanetti's latest series. I loved each and every moment of it and can't wait to see what happens next.