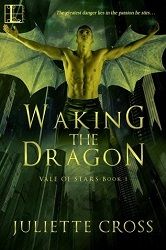 Title:
Waking the Dragon
Series: Vale of Stars #1
Author: Juliette Cross
Published: June 9/15 by Lyrical Press
Length: 288pgs
Genre: paranormal romance
Shelf: Netgalley
Rating: ★★★★★+

Back Cover Blurb:
The Gladium Province is on the verge of civil unrest as humans and Morgons, the dragon-hybrid race, clash once more. But amid disorder can also arise passion.
When the bodies of three human women are discovered in Morgon territory—with the DNA of several Morgon men on the victims—it's just a matter of time before civil unrest hits the Province. But for ambitious reporter Moira Cade, it's more than just a story, and it may mean risking her own life.
Descending into the dark underworld of Morgon society, Moira is paired with Kol Moonring, Captain of the Morgon Guard, for her protection. Fiercely independent, Moira bristles at his dominance, and defies his will at every turn. Yet resistance proves futile when passion flares between them, awakening powerful emotions within both, body and soul. But as the killings continue, can their fiery newfound bond survive an even greater evil—one that threatens all of humanity, Morgonkind, and Moira's very soul?...
My Review:
Cross really kicked it up a notch with this one! It's intense on so many different levels and in many different ways. Cross' writing has an eerie feel to it at times, adding to the suspense of the story, while at the same time bringing this world to life in a vividly real manner. This is one author who definitely knows how to use sex and intimacy to build a relationship between her characters, rather than simply as an interlude in the story. And it's hot as Hades when she does it!
Cross lays out what it means to be a Morgon, both physiologically and culturally, while maintaining the forward flow of the story. The differences between the clans becomes very apparent throughout this novel. What makes each family tick is not only intriguing but also integral to the working of this word as a whole.
The main character's outlook on life made me smirk, I loved it. I enjoyed Moira's need to stand on her won and succeed yet also appreciated her ability to realize when she needs others. Kol's dark, brooding, dangerous personality really shines through and is definitely something to dream about for a long, long while. These two make a fantastic couple, proving that relationships definitely do work both ways. She surrounds these two with secondary characters that really pack a punch. Some we met in past series by the author, others are entirely new. Either way they round out the story fantastically and are easy to get to know within the pages of this novel. Oh, and just a word of warning for any of you who loved the Nightwing brothers… Just wait until you get up close and personal with the Moonring twins!
I loved being back in Gladium province with Cross' new series. I laughed, I cried, I was taken to a magical world, I lived alongside the characters for a short while, and am now longing to return. That, my bibliophilic friends, is the mark of a truly great story.