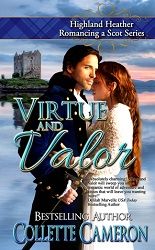 Title:
Virtue and Valor
Series:
Highland Heather, Romancing a Scot #2
Author:
Collette Cameron
Publication Date:
June 24/15 by Soul Mate Publishing
Length:
320pgs
Genre:
historical romance
Shelf:
review
Rating: ★★★★★
Back Cover Blurb:
Bartholomew Yancy never expected to inherit an English earldom and had no intention of marrying. Now, the Earl of Ramsbury and last in his line, he's obligated to resign his position as England's War Secretary, find a wife, and produce an heir. Only one woman holds the least appeal: Isobel Ferguson, an exquisite Scotswoman. Brought to Scotland to mediate between feuding clans, he doggedly woos her.
Disillusioned with men pursuing her for her attractiveness, rather than her unusual intellect, Isobel has all but abandoned any hope of finding a husband in the Highlands. Not only does she believe Yancy no different than her other suitors, he's a notorious rake. She's been told he's practically betrothed. Therefore, his interest in her cannot possibly be honorable, and so she shuns his attentions.
When Isobel is mistakenly abducted by a band of rogue Scots, Yancy risks his life to rescues her. To salvage her compromised reputation, her brother and father insist she marry him. Yancy readily agrees, but Isobel—knowing full well she's fated for spinsterhood by refusing his offer— won't be coerced into marriage.
Can love unite a reluctant earl and a disenchanted beauty?
My Review:
Once again Cameron has created a regency romance that takes you away from the everyday and back in time to a world that captures you heart and soul. Her eloquent and elegant writing sets the tone for this story of suspense, romance, and so much more. Her descriptions and narrative served to develop the setting in such a manner that my imagination was easily joining the characters in Scotland, all the while keeping me on my toes with this realistic suspense and captivating romance.
Isobel was such a multifaceted and fascinating heroine. The combination of prim and proper lady with headstrong, adventurous woman made for an unforgettable main character. I found the archaeology to be an intriguing aspect of Isobel's character. It took her out of the realm of ordinary regency heroine, making her even more memorable. At the same time, she was the perfect match for Yancy. Their battle of the wills, combined with the trouble Isobel found herself in served to highlight the tenderness that lay behind Yancy's War Secretary persona. The peeks at his vulnerability made me love him even more. And Cameron didn't stop her character development with this loveable pair. We got to know their friends and family well, creating an entire crew that I felt as if I knew personally, and would love to continue getting to know through further works in this series.
Cameron never fails to make me laugh, while at the same time warming my heart and taking me back in time. This captivating novel is no exception. I thoroughly enjoyed every moment of it and wouldn't hesitate to recommend it to others. And just a note for those who haven't read Cameron's work before, this is part of a series but can also easily be read as a standalone novel.