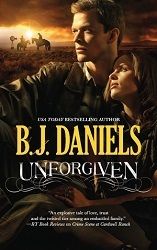 Title:
Unforgiven
Series:
Beartooth, Montana #1
Author:
B.J. Daniels
Published:
November 20/12 by Harlequin HQN
Length:
352pgs
Genre:
romantic suspense
Shelf:
own
Rating: ★★★★
Back Cover Blurb:
In Beartooth, Montana, land and family are everything. So when Destry Grant's brother is accused of killing Rylan West's sister, high school sweethearts Destry and Rylan leave their relationship behind in order to help their families recover from tragedy.
Years later, Destry is dedicated to her ranch and making plans for the future. Plans that just might include reuniting with the love of her life…until her brother returns to clear his name and the secrets of the past threaten her one chance at happiness.
Rylan is done denying his feelings for Destry. But when clues begin to link her brush with death to his sister's murder, will discovering the truth finally grant them their chance at love or turn them against one another for good?
My Review:
Once again Daniels brings her world and her characters to life in a way that dares you to try and ignore them. I was emotionally engaged from the first page, but not overwhelmingly so. The multiple mysteries that wind their way through the novel add to the overarching who-dun-it plot. The suspense was riveting and the rekindled romance was so genuine that I couldn't help but wish for the same for myself.
The characters in this novel really made my day. Daniels took everyday individuals and placed them in situations that made them so much more. The well-developed main characters not only had a history between them, but situations to overcome that seemed so very daunting. Daniels' diverse character development doesn't stop there. I enjoyed getting to know various members of the town as if they were my own neighbours. I love the fact that some of the characters are the type of people that you instinctively want to get to know better, while others get on your nerves from the get-go. It makes it so much more real. Personally I found Nettie to be an irksome busybody. She does add a great deal to the story, but her personality grates on me.
I love Daniels' writing, and so far, this series is no exception. She had me hooked from the first page.
Title:
Fallen
Series:
Beartooth, Montana #0.5
Author:
B.J. Daniels
Published:
November 1/12 by Harlequin HQN
Length:
30pgs
Genre:
contemporary western romance
Shelf:
borrowed
Rating: ★★★★
Back Cover Blurb:
USA TODAY bestselling author B.J. Daniels welcomes you to the town of Beartooth, Montana, for a new series set under Montana's big sky...
Since teenager Bethany Gates was a girl, Clete Reynolds had been hers--in her heart, at least. She was devastated when he left their small ranching town of Beartooth, Montana, on a football scholarship, but then an injury brought him back. Now she's determined to get him to notice her...if her rival Ginny West doesn't get in the way. But Bethany doesn't know Ginny has a secret of her own--one that could turn out to be deadly....
My Review:
I love the way that this prequel is written. Daniels gets right down to the nitty gritty of her story, drawing readers deep into the world of Beartooth, Montana, setting them up for the first novel in the series. She highlights her characters' strengths & weaknesses, making them real people that you can identify with. At the same time, she introduces readers to the town and it's tragedies in such a manner that it leaves you wanting & needing to know more.
This story really gives you a peek at the lives of the characters & sets readers up perfectly for the 1st novel in the series.