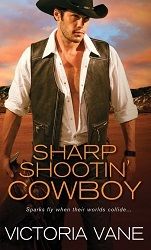 What was the most fun about writing Sharp Shootin' Cowboy? by Victoria Vane

In addition to the challenge of writing a romance between two people who are diametrically opposite in every conceivable way, I loved the geographic diversity of this story.

SHARP SHOOTIN' COWBOY transports the reader from the Mojave Desert where my hero, Reid Everett, is finishing Marine Scout Sniper training and then follows him as he deploys to Iraq almost immediately after meeting my heroine, Haley Cooper. Haley, meanwhile goes to Alaska to study wolves. Later they meet once more in California and then part ways for a number of years before fatefully coming back together over a wolf kill in Wyoming.

As a true research junkie, I sometimes I get so caught up in chasing the details that I lose my way. In this case, however, those details MADE the story. It came to life for me in such a vivid and real way that I can't help believing that readers will also be completely sucked in.

Here's a favorite excerpt:

"You are marines. You fight to protect innocent lives. You fight to keep our country from further threat. You fight for the universal cause of freedom. You are United States Marines. The world's finest warriors. The most feared fighting machine. This is a day you will remember for the rest of your lives. The day you carved a place in history with the entire world watching. You are marines," he reiterated. "Never forget it."

After being muzzled and chained for months, the Devil Dogs were about to be unleashed. The next hours were spent with individual commanders reviewing the battle plan, breaking it down by company, platoon, and individual squads. Dust choked their throats as Reid and Garcia grabbed their gear and trekked toward the lines of armored Humvees and Seven-tons lining the periphery of the airfield. With weapons shouldered, the "Balls of the Corps" piled into their respective transport vehicles.

Within hours of their arrival, the miles long convoy pulled out onto the highway headed for FOB Volturno, two miles outside Fallujah—the hottest zone in Iraq. The marines grew quieter and more reflective the closer they approached the Abdaly checkpoint separating the two countries. There were a number of changes since his last deployment. Hundreds of soldiers, low flying helicopters, and a new barrier comprised of electrified fencing and razor wire, reinforced by a fifteen-by-fifteen foot trench.

A short time after crossing into al-Anbar Province, a storm of screaming rockets and mortar fire commenced. Reid's gaze flickered to the blanch-faced, wide-eyed "boots." Although they'd had plenty of live fire exercises at home, this was the real deal. Several mortars hit nearby, rocking the vehicles and quaking the earth.

Garcia snagged his gaze. "Ali Baba's hospitality committee."

Reid regarded the craters, careful to keep his tone bland. "At least their aim hasn't improved."
"Time to embrace the suck, hombres," Garcia quipped to his comrades. "For the next eight months, this is about as good as it gets."

On the heels of the attack came the familiar drone of an AC-130 Ghostrider circling overhead.

"I'm getting a hard-on now." Garcia pointed to the sky. "I love that fucking plane."

More earthquakes echoed in the distance—the Ghostrider's reciprocation.

A wide smirk stretched Garcia's mouth. "Welcome back to hell, ese."

By nightfall, mortars and missiles were raining down like a meteor shower, with hellfire rockets lighting up the nighttime skies like shooting stars.

***

Dear Haley,

This is my first real letter to you. I may not get another chance for a while. Hell, I may not get another chance period. Truth be told, I don't even know if I'll send it. Although I prefer to live by the adage that if you can't say something positive, it's best to say nothing, there aren't a whole lot of rainbows in the middle of a shit storm. And that's what we're up against. The grunts we came to replace greeted us with a nod and the thousand-mile stare. No words were exchanged. None were needed. We all know what we're facing.

Every morning begins a new game of Russian Roulette as we sidestep IEDs, dodge RPGs, rockets, mortars, and sniper fire, taking every minute as it comes, knowing nothing over here can ever be taken for granted. My first thought every morning is only to make it through the coming day, and my last, at night, is a prayer of gratitude that I'm still alive.

At the end of each day, I can only marvel at the beauty of sunsets that are some of the most spectacular I have ever seen. Watching them is an evening ritual.

Reid paused to read the message, realizing it was far too raw and real. Did she ever think about him? He didn't know. Did she care? He didn't know that either. Maybe he never would.

With a shake of his head, he deleted the text of the email, attached a photo of a breathtaking desert sunset, and hit "send."

After disembarking, they assembled for a briefing. The entire battalion was gathered under a scorching desert sun, battle guidons barely flickering in a scarcely perceptible breeze. Though nighttime temps would be close to freezing, days were hot as hell, 110 degrees without counting the slow-cooker effect of body armor. Standing stone-faced in rigid lines, the companies faced one another in formation as their stoic colonel made his motivational address.
Victoria Vane is a multiple award-winning romance novelist and history junkie whose collective works of fiction range from wildly comedic romps to emotionally compelling erotic romance. Victoria also writes historical fiction as Emery Lee and is the founder of Goodreads Romantic Historical Fiction Lovers and the Romantic Historical Lovers book review blog.
Connect with Victoria Vane:
Website
|
Facebook
|
@AuthorVictoriaV
|
Pinterest
|
Goodreads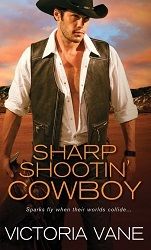 Title:
Sharp Shootin' Cowboy
Series:
Hot Cowboy Nights #3
Author:
Victoria Vane
Published:
June 2/15 by Sourcebooks Casablanca
Length:
320pgs
Genre:
contemporary romance
Shelf:
review
Rating: ★★★
Back Cover Blurb:
TAKE YOUR BEST SHOT, COWBOY…

Weary warrior… After eight years as a Marine sniper, war-scarred Reid Everett is back in his native Wyoming. He knows and loves this rugged land, so working for wildlife services to reduce the booming wolf population suits him to a T.

Caring crusader… Wildlife biologist Haley Cooper is desperate to make a difference. Leaving the world of academia behind, she accepts a position as a wolf advocate to protect the animals she loves.

Raw attraction… Their jobs set them on a collision course, but chemistry sparks like wildfire between Reid and Haley. They'll have to brave some rough territory if they hope to reconcile their polarizing views with a passion that won't be denied.
My Review:
Vane has crafted yet another intricate & thought provoking tale that can definitely hold your attention. The flow of the writing leads readers right into the tale, while the narrative and descriptions paint this world before your eyes. I really enjoyed how there was more to this novel than simply the relationship between the main characters. Family, friends, wildlife all come in to play in the meantime. Nor do we rush through a whirlwind romance. I loved seeing the relationship build, and implode more than once throughout. This sense of reality kept me grounded.
I'll admit that I had very high hopes for this one. I've loved this series up until now, and don't get me wrong, I did enjoy this book, but it didn't quite live up to the rest. When we get to characters, I run in to my big issue with this novel. The heroine got on my nerves, repeatedly. I tried to like her, I really did. Admittedly there were a number of things that I liked about her. She stood up for what she believed in. She was willing to go her own way. She was a caring individual. But she was so closed minded about things that she was at a standstill as an individual. As much as I understood her point, but about half way through the book she had me so annoyed that I simply didn't like her much anymore. It kind of ruined the story for me. That said, I absolutely loved our hero here. Reid was caring, compassionate, and friendly. He was also strong and a military hero. He was the perfect man, but still had his flaws which made him so very real.
There was so much about his novel that I loved, that kept me coming back, wanting more. The plot was great, there was a fantastic male lead, the writing was phenomenal. But Haley… *FacePalm* Honestly, however, I really did enjoy the novel, especially once I got over the fact that I just won't like everyone.
Be sure to enter this fantastic tour wide giveaway!