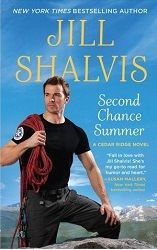 Title:
Second Chance Summer
Series:
Cedar Ridge #1
Author:
Jill Shalvis
Expected Publication:
June 30/15 by Grand Central Publishing
Length:
368pgs
Genre:
contemporary romance
Shelf:
review
Rating: ★★★★★
Back Cover Blurb:
RESCUE ME
Cedar Ridge, Colorado, is famous for crisp mountain air, clear blue skies, and pine-scented breezes. And it's the last place Lily Danville wants to be. But she needs a job, and there's an opening at the hottest resort in her hometown. What has her concerned is the other hot property in Cedar Ridge: Aidan Kincaid-firefighter, rescue worker, and heartbreaker. She never could resist that devastating smile . . .
The Kincaid brothers are as rough and rugged as the Rocky Mountains they call home. Aidan has always done things his own way, by his own rules. And never has he regretted anything more than letting Lily walk out of his life ten years ago. If anyone has ever been in need of rescuing, she has. What she needs more than anything are long hikes, slow dances, and sizzling kisses. But that can only happen if he can get her to give Cedar Ridge-and this bad boy-a second chance . . .
My Review:
What a rush! I was laughing hysterically and crying like a baby in turns. Shalvis mixes some very suspense packed and danger filled moments that had my heart in my throat with some of the most introspective, emotional scenes I've ever read. Everything was all so vividly real. This novel is a fantastic example of what a second chance romance should be. Emotions run high as readers encounter some of life's most difficult tragedies, all the while being wrapped in the safe cocoon of budding romance. Shalvis brings Colorado to life even for those of us who haven't been there. The beauty of the area shines through in her writing.
When you pair a hometown alpha hero with the girl next door returned home you're sure to have some sparks, but the genuinely romantic & heartfelt relationship that these two fight against was epic. I love how there are convergences and divergences in their histories that are filled in for the reader throughout. Both of the main characters have a misguided belief that they caused catastrophe for their respective families and won't forgive themselves for it. It's an enriching similarity between the two, even if they don't see it themselves. Shalvis' well-rounded character development doesn't stop with her main characters either. Getting to know Aiden's family was a laugh and a half. These are some individuals that I truly can'
It's always so much fun to delve into a new series by an author you enjoy. This one is no exception! Shalvis has done a fantastic job of setting the backdrop for the rest of the series while at the same time telling a story you won't soon forget.
Book Links