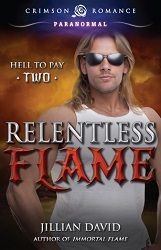 Title:
Relentless Flame
Series:
Hell to Pay #2
Author:
Jillian David
Publication Date:
May 4/15 by Crimson Romance
Length:
264pgs
Genre:
paranormal romance
Shelf:
review
Rating: ★★★★
Back Cover Blurb:
Immortal. Colossal. Suave. Indebted killer Dante Blackstone has the world at his feet. Every vice, any desire, is his for the asking—until he finds the one person he cannot have: one sweet, diminutive woman who could bring about Dante's destruction.
Despite her supernatural ability to heal others, a devastating act of evil has left Hannah Miller broken in body and spirit. As she rebuilds her life while on the lam, a not-so-chance meeting with Dante chips away at the walls surrounding her fragile heart. But before their fledgling love can take flight, Dante's boss sends an evil minion with one mandate: Eliminate Dante's new reason to break his eternal contract.
As they fight to survive, Hannah's amazing gift gives Dante one chance to save them both from the vicious minion. How can any love survive eternal hell and annihilation?
The answer lies in Dante's inferno.
My Review:
David spins the tale of good vs evil in an entirely new light with this one. Suspense and plot twists combine with a heated romance in this novel where the pace never lets up. David created a world so seamless that you can easily picture each and every aspect of it, at the same time she doesn't hamper your imagination.
David's writing style lets you get up close and personal with her characters. Dante's overly confident yet still droolworthy nature contrasts with and sparks off of Hannah's much quieter persona. Although circumstance may have thrown the main characters together, the bond between them, which is based on so much more than just chemistry, keeps them together. David also develops her supporting cast well, giving readers the whole picture with this one.
This novel was definitely a treat to read. The fast paced tale definitely kept me engaged throughout. It's a fantastic read for those who enjoy the genre.