Interview with Lee Stephen
1. Outlaw Trigger explores some dark spiritual themes. Did that surprise your readers?
I think it did, but that's a good thing. You never want to become too predictable. I think that the themes, though dark, were relatable, helped out quite a bit. Readers were able to put themselves in Scott Remington's shoes and ask what they'd have done under his situation. It gets them thinking, which is always what you want.
2. Esther Brooking has become one of the major stars of Epic. Did you know she would become popular while you were writing book two?
I had a feeling she'd be a fan favorite, but not to the extent that she actually became. Esther is a huge part of Epic! I can't imagine this story without her. She's a character who pretty much writes herself, so that's as exciting for me as I think it is for the reader when they get to one of her scenes. I'm never 100% sure what she's going to do, either!
3. What was the hardest scene to write in this book?
I can't really name a specific scene, because it'd spoil too much, but I can say that the overall balance of the book was difficult to nail down. There are so many dark elements, it really forced me to put extra effort into the timing of things like the comedic asides and generally lighter moments. You have to have those things in there…you don't want a story that's just dark from one page to the next! Getting the levels and timing down for all that was quite a trick.
4. Why is this book dedicated to "Humanity?"
Being that
Outlaw Trigger
delves into such dark issues, I felt it was a good contrast to the God dedication of book one. Humanity, by nature, is not good. It fit the overall tone of the story. Whenever you see an Epic book dedicated to humanity, look out!
5. Will someone be able to appreciate Outlaw Trigger without having read Dawn of Destiny first?
There's really no way to get a full appreciation for
Outlaw Trigger
without reading
Dawn of Destiny
first. It's called book two for a reason! I don't spend a lot of time rehashing what's already been done, so a reader would definitely miss some crucial story elements without reading the first instalment.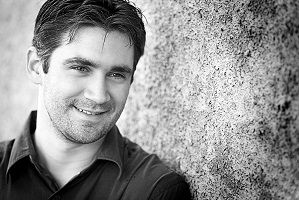 About the Author:
Born and raised in Cajun country, Lee Stephen spent his childhood paddling pirogues through the marshes of South Louisiana. When he wasn't catching bullfrogs or playing with alligators in the bathtub (both true), he was escaping to the world of the imagination, creating worlds in his mind filled with strange creatures and epic journeys. This hasn't stopped.
Now a resident of Luling, Louisiana, Lee spends time every day delving into the world of Epic, the science-fiction series that has come to define him as a writer and producer. Alongside his wife, Lindsey, their son, Levi, and their dog, Jake, Lee has made it a mission to create a series that is unique in its genre—one unafraid to address the human condition while staying grounded in elements of faith.
In addition to writing, Lee works full-time for the Department of Homeland Security & Emergency Preparedness. He has also spent time as a church deacon, guitar hobbyist, and New Orleans Saints season ticket holder. He is a graduate of Louisiana College in Pineville.
Connect with Lee:
Website
~
Twitter
~
Facebook
Title:
Outlaw Trigger
Series:
Epic #2
Author:
Lee Stephen
Published:
September 1/07 by Stone Aside Publishing, LLC
Length:
300pgs
Genre:
SciFi/Thriller
Shelf:
review
Rating: ★★★★★
Back Cover Blurb:
They say every man has a breaking point-every man can be pushed off the edge. Scott Remington entered EDEN with the heart of a lion. He forged glory in the furnace of war. But on the heels of dawn, darkness awaits. Only when stretched to the limit will a man truly learn who he is. That limit is about to be breached. Lines will be crossed. Sides will be chosen. And faith will be put to the test. Will the righteous prevail?
My Review:
Stephen follows up Dawn of Destiny with another winning story in Outlaw Trigger. He writes an intricate plot that keeps you on your toes while keeping you thoroughly engaged. The combination of suspense and intrigue had me thoroughly wrapped up in this world. Stephen tops that off by combining Earth's military with a SciFi plot, and throwing in a healthy dose of subterfuge. I escaped a rainy summer's day to be transported into the world and into the pages of this novel. Intricate plot twists combine with fantastic storytelling and detailed description to bring the entire package to life.
Characters that we came to know in the first novel in the series continue to develop in such a manner that draws you to them, while at the same time sets them apart from one another. I liked how the same things may have been drawing the individuals forward, but not necessarily in the same way as in the first novel. I enjoyed returning to EDEN alongside them and meeting their new comrades, both friend and foe.
I found this novel even more captivating than the 1st in the series. I read it in less than a day. It's a fantastic read for all those who enjoy the genre. I wouldn't hesitate recommending it (or re-reading it).
Enter to win in this fantastic tour wide giveaway.