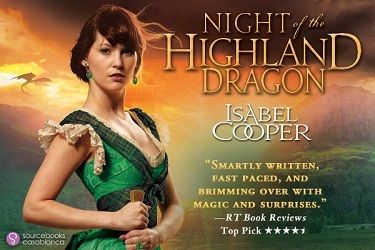 When not writing, what do you like to do for fun? by Isabel Cooper
Surprising nobody, my first answer here is reading. I don't specifically make time for that as much as for the other things I do, or as much as I used to: generally speaking, I do most of my reading on the subway, or online during my lunch break. Once in a while, though, especially on weekends or vacations, I'll set aside a couple hours to just stretch out and read, and it's always nice.
I also watch a lot of Netflix—currently working my way through Mad Men, again, in preparation for the finale. I also like Orange is the New Black, Call the Midwife, and Better off Ted; I loved Buffy, Angel, The West Wing, and Twin Peaks; and my family and I bonded over Law and Order reruns when I was young. Movies are also great—ideally something with a bit of comedy in it and a happy ending—though I have less time to work them into my life.
The other thing I use my computer for is video games. I'm currently working my way through Dragon Age: Inquisition, and I very much enjoy the two that came before it. In the past, I've really liked Monkey Island (1 and 3 were best, in my opinion), Planescape: Torment, Psychonauts, Shadow Hearts (again, 1 is best), and the various Silent Hill games, in a never-sleeping-again kind of way. I was totally into the Mario/Zelda/etc sort of thing as a kid, and can enjoy it now for a little, but I never really developed the reflexes. I also like Dance Dance Revolution, though apartment living means I rarely get to play.
Speaking of dancing, I'm fond of it: both ballroom dancing, which my friends and I do in a very non-professional way, and the short-skirt loud-bass club version, when I can manage it. I used to do a lot more, just like I used to do more skating and martial arts, and would like to pick up all of the above again, time permitting.
And then there are roleplaying games, which I got into at eleven and have yet to stop playing. Yes, I do the live-action version too: getting to dress up and hit people with foam weapons makes up for the amount of unfettered nature I have to expose myself to in the process. Yes, I am really quite a geek.
Otherwise? Lots of lazing around, drinking cocktails and flirting with unsuitable men. The occasional amusement park trip. Just life, basically.
About the author:
During the day, Isabel Cooper maintains her guise as a mild-mannered project manager in legal publishing. In her spare time, she enjoys video games, ballroom dancing, various geeky hobbies, and figuring out what wine goes best with leftover egg rolls. Cooper lives with two thriving houseplants in Boston, Massachusetts.
Title:
Night of the Highland Dragon
Series:
Highland Dragons #3
Author:
Isabel Cooper
Published:
June 2/15 by Sourcebooks Casablanca
Length:
352pgs
Genre:
historical paranormal romance
Shelf:
review
Rating: ★★★★
Back Cover Blurb:
"They say," said the girl, "that people disappear up there. And I heard that the lady doesna' ever grow any older."

"The lady?" William asked.

"Lady MacAlasdair. She lives in the castle, and she's been there years, but she stays young and beautiful forever."
In the Scottish Highlands, legend is as powerful as the sword—and nowhere is that more true than in the remote village of Loch Aranoch. Its mysterious ruler, Judith MacAlasdair, is fiercely protective of her land—and her secrets. If anyone were to find out what she really was, she and her entire clan would be hunted down as monsters.
William Arundell is on the trail of a killer. Special agent for an arcane branch of the English government, his latest assignment has led him to a remote Highland castle and the undeniably magnetic lady who rules there. Yet as lies begin to unravel and a dark threat gathers, William finds himself drawn deeper and deeper into the mystery of the Highlands…and the woman he can neither trust nor deny.
He prays she isn't the murderer; he never dreamed she was a dragon.
My Review:
Cooper transports you back in time. The consistent use of phrasing throughout the narrative and dialogue really sets the scene for this. It gives it that 'old time' feel. She also takes you into a world beyond the one we live in, while at the same time making it completely believable. There is a sense of mystery and danger that permeates this well written novel, keeping you on your toes. Combined with Cooper's vivid descriptions and upbeat narrative, this story kept me truly engaged.
I liked that I got a sense of who the main characters were both together and separately. The way that they try to stay separate, yet come together out of necessity was charming. Not only that, but I enjoyed getting to know each of them in their own way. They were both so true to themselves, yet willing to compromise. This was a truly enjoyable cast of characters.
As a whole, this was a truly enjoyable dragon-shifter novel. The loveable characters combine with the uniquely captivating storyline in an unforgettable manner. I will suggest, however, that you read the other novels in the series first for context. It will really add to the story.

Enter to win in this fantastic tour wide giveaway!