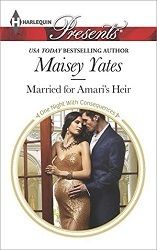 Title:
Married for Amari's Heir
Series:
One Night with Consequences #10
Author:
Maisey Yates
Published:
July 1/15 by Harlequin Presents (June 16/15 for e-books)
Length:
192pgs
Genre:
contemporary romance
Shelf:
Netgalley
Rating: ★★★★
Back Cover Blurb:
She will share his bed
It may have been Charity Wyatt's father who stole from mogul Rocco Amari, but it's Charity who will pay the price of Rocco's vengeance. 
Carry his heir
Relinquishing her virginity should have covered Charity's debt, but her one white-hot night with the enigmatic Italian has unexpected consequences. 
And be his wife!
Determined her baby will have a better childhood than she did, Charity asks Rocco for financial help. But Rocco has bigger plans in mind: to legitimize his heir by making Charity his wife! 
When one night leads to pregnancy!
My Review:
Sometimes the simple things in life are the most important & the most precious. Of course, they rarely come about easily, do they? Yates took this premise and created a fantastic novel with it. She takes the billionaire & the virgin scenario and runs the extra mile, creating a story that I had trouble putting down. This story comes to life before your eyes, taking you deep inside the lives of the characters that Yates creates.
This novel is as much about self-discovery & revelation in the main characters as it is about the romance budding between them. The cracks in Rocco's veneer, which spiderwebbed further and further out of control the longer he was with Charity, made him so very human and even more desirable. Charity's attempts to come to grips with her past showcased a life that many of us never even think about. I cried with Charity and for Rocco, all the while laughing at both their antics.
Yates is a master storyteller who brings her romantic tales to vivid reality in a world that combines success with hardship in so many ways. This story was no exception. It's a fantastic tale that can easily be read as a standalone, or as part of the larger series.