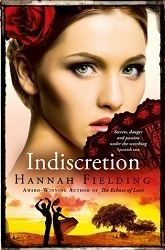 Can you please tell us a bit about yourself:
I grew up in a rambling house overlooking the Mediterranean in Alexandria, Egypt. After I graduated with a BA in French literature, my international nomadic years commenced. I lived mainly in Switzerland, France and England, where I had friends and family, and during holidays I travelled to Mediterranean countries like Italy, Greece and Spain.
I met my husband in London at a drinks party: it was love at first sight, just like in the romance books that were my constant companions. He brought me to his large Georgian rectory in Kent, surrounded by grounds and forests. After my children were born, between being a mother and running a property business, there was little time for day dreaming, let alone writing.
Then, once my children had flown the nest, I decided after so many years of yearning to write, write, write it was time to dust off the old manuscripts I'd been tinkering with for a lifetime and finish my first novel, based on my knowledge of Kenya. And thus, Burning Embers flowed onto the page.
Today, I am living the dream: I write full time, splitting my time between my homes in Kent and in the South of France, where I dream up romances overlooking breathtaking views of the Mediterranean.
What's something you never leave home without?
I never leave home without my handbag in which I have my phone (to take photographs as well as calls) and a notebook in which I jot down impressions if anything catches my attention.
If you could have lunch with one person, dead, alive, or imaginary, who would it be and why?
I think I would choose Lawrence Durell: not only a wonderful writer and poet, but also a great traveller who, like myself, considered himself a cosmopolitan person rather than belonging to one country. He had a great sense of humour and a good, although rather cynical, knowledge of human nature.
What is your favourite quote, by whom, and why?
This is a difficult question because there are so many wonderful quotes out there, written by great authors, poets and philosophers. Still, I think that the one that inspires me the most is: 'If there's a book that you want to read, but it hasn't been written yet, then you must write it,' by the great American writer Toni Morrison.
Ebooks, paperbacks, or hardcovers?
Paperbacks because they are lighter to carry and because I like the feel of them. Unfortunately, I have never entirely taken to ebooks. Hardcovers look beautiful on a shelf, but are impractical and expensive. Paperbacks are a good in-between.
What is your favourite genre to read? To write?
I'm a romantic, a passionate dreamer by nature and an avid reader. I write romance novels because that is the genre I most enjoy reading. My writing comes from the heart – I must feel before I write, and love and the passions it creates in people are what touch me most.
For the time being I am happy writing in this genre, as I believe that it is important to write about what you know—write from the heart. As for writing other genres... who knows? Fontaine, je ne boirai pas de ton eau, which is the French equivalent of 'never say never'. In life, one never knows!
How did you begin writing? Was there a single catalyst or a series of events?
Stories and writing have always been part of my life. My father was a great raconteur and my governess used to tell the most fabulous fairy stories – I could listen to them for hours. When I was seven she and I came to an agreement: for every story she'd tell me I would invent one in return. That is how my passion for storytelling began.
At school I consistently received first prize for my essays and my teachers often read them aloud in class. As a teenager I used to write short romantic stories during lessons and circulate them in class, which made me very popular with my peers (but less so with the nuns!). In addition, since a young age I have kept some sort of a diary where I note my feelings, ideas and things that take my fancy (or not).
My grandmother was a published author of poetry and my father published a book about the history of our family, so writing runs in my veins. I guess I always knew that one day I would follow in those footsteps and forge my own path in that field – a subconscious dream which finally came true.
What's the best thing that's happened since you began writing? The worst?
The best: holding my first book, Burning Embers, in my hands as a 'properly' published work.
The worst: reading a review in which the reader has not 'got' my style. Although I know one can't please everybody, it does hurt.
What are your five favourite verbs to use during a love scene?
I don't have any favourite verbs, actually… I write what comes in the moment.
What inspired you to write Indiscretion?
My romance with Spain began when I was in my early teens after I saw a film called The Pleasure Seekers. The wonderful setting and atmospheric music made me dream and triggered my imagination.
Then I visited that beautiful country and it captured my heart. Spain has a rich culture and an ancient, varied history. It is a land of drama. The people are intense; their culture, their music, their traditions personify passion and fire. They are never in a hurry. If you don't make it today, there is always mañana, tomorrow… life is lived to the full. The Spanish seem to be totally in tune with James Dean's immortal words, 'Live as if you'll die today.' All in all a country after my own heart… the seeds for Indiscretion were sown!
What is your favourite part or scene in the novel? Why?
The masked ball at El Pavόn, the de Falla's family home. Ever since I can remember I have been fascinated by masks and by masked balls. This fascination, I know, stems from a memory in my childhood.
When I was almost eight, my parents, my sister and my governess were coming back from Italy on the Italian liner Esperia. On the eve of us docking in Alexandria, a masked ball was organised. All day there reigned an atmosphere of excitement and festivity on the boat. Wall sconces, columns and cornices were being decorated with garlands of flowers and balloons, and tables in the main dining room were set with an array of cotillions, party favours: whistles, wonderful multicoloured paper hats and rolls of serpentine ribbons. Beautiful ladies and handsome men, including my parents, were busy trying on fabulous costumes and masks that conveyed a feeling of enigma that piqued my imagination.
Of course my sister and I were not allowed to attend the ball, which deeply upset me. My governess, Zula, promised that if we napped in the afternoon and also went early to bed, she would wake us up at around eleven o'clock at night to let us have a peek at the ball. Oh the excitement! My sister and I did as we were told and Zula kept her promise. Once we were bundled up in our pyjamas and red dressing gowns, she took us up to the ballroom where we stood behind a column watching, fascinated by the grand spectacle. Guests were laughing, talking, drinking, and dancing, twirling in a rainbow of costumes, some of them representing fairy tales that we recognised, others exhibiting rich clothes of the kings and queens whom we had read about in our history books. But all of them were wearing masks, which conveyed a surreal air of mystery and romance which has stuck in my mind all my life.
Therefore in the three books of The Andalucian Nights Trilogy (I
ndiscretion, Masquerade
and
Legacy
) there is the recurrent scene of the masked ball.
The Echoes of Love
, my romance set in Venice that was published last year, opens with the Venetian Carnival at the Millennium… masks again!
Do you prefer to write in a small town or big city setting? Why?
I really don't mind which as long as the setting pulls at my heart strings and triggers my imagination.
Are you a plotter or a pantser?
I am definitely a plotter. I have a very rigid routine which has served well. Having researched my facts thoroughly, I plan my novel down to the smallest detail. A writer today has no excuse for not getting his/her facts right. Travel, internet, books, films, documentaries: they're all there to make the writing journey easier. Planning ahead, I have found, makes the writing so much easier and therefore so much more enjoyable. I use my plan as a map. I never set out on a long journey by car without a map, and the same applies to my writing.
What characters did you find yourself especially drawn to and why?
In
Indiscretion
, I was profoundly drawn to my heroine, Alexandra de Falla. She is a spirited half-English, half-Spanish woman. She is intelligent, sensitive and curious, but most of all a romantic – in fact, she has made a career of writing romance novels.
To escape the stifling background of post-war England in the fifties, but mostly to find her roots, she embarks on a journey to Andalucia, where she meets her estranged Spanish family. At El Pavόn she comes up against the bigotry of 1950s Spain – the hero, his family and the wider society all adhere to ways she does not understand, and indeed condemns because to her they belong in the dark ages. Proud and a staunch individualist, Alexandra recklessly follows her own naïve star, and, in view of the times and the places, almost ruins her life. Still, she definitely has an emotional freshness which comes through immediately, a quality that Salvador, being a conservative Spanish male, finds highly attractive. Her unworldliness might land her in trouble, but nevertheless, her innocence is not without charm.
Alexandra is therefore a heroine caught in an inner battle between being 'modern' and being 'old fashioned' in terms of how she reacts to family responsibilities and to the men she meets.
I was drawn to and enjoyed imagining Alexandra's experience of entering this sort of environment, because in some way this happened to me when I married my English husband. I thought I knew England well, but despite my very international education and my numerous travels to England and other parts of the world, visiting and living in a place are very different things: different weather, different culture, different prejudices! My English life is now my own and I am very comfortable with it, but it is a very different world to the one in which I grew up, and writing Indiscretion was not only an exercise in writing a romance story set in a place about which I loved to dream, but also an interesting adventure of exploration for me.
Do you have anything in the works at the moment? Care to give us a hint about it?
My next book to be published in mid-summer 2015 is
Masquerade
, the sequel to
Indiscretion
and Book #2 in The Andalucian Nights Trilogy. It is set in the second half of the seventies and is the story of Luz, Alexandra's daughter, living in the New Spain that has opened its borders to outsiders and is preparing to enter the European Union.
Set in a very different era to that into which Alexandra was thrown, but one that nevertheless has its problems, Masquerade is a story of forbidden love, truth and trust in a world of secrets, revenge and mystery. Are appearances always deceptive?
In 2016, my readers can look forward to Book #3, Legacy. Greece and Egypt, two captivating countries with a huge historical and culture legacy, are also on the map for settings in new Hannah Fielding romantic novels.
I still have many books in me. For me, being a writer is not about publishing. It is simply about writing – writing from the heart the books that I most want to read.
If you could give aspiring authors one piece of advice, what would it be?
Write from the heart. Be true to yourself and don't compromise to please the market. Markets change, fads come and go; your work will remain.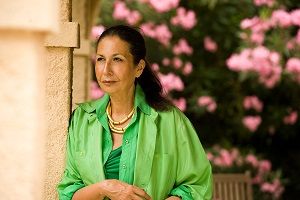 About the Author:
Hannah Fielding is an incurable romantic. The seeds for her writing career were sown in early childhood, spent in Egypt, when she came to an agreement with her governess Zula: for each fairy story Zula told, Hannah would invent and relate one of her own. Years later – following a degree in French literature, several years of travelling in Europe, falling in love with an Englishman, the arrival of two beautiful children and a career in property development – Hannah decided after so many years of yearning to write that the time was now. Today, she lives the dream: writing full time at her homes in Kent, England, and the South of France, where she dreams up romances overlooking breath-taking views of the Mediterranean.
To date, Hannah has published three novels: Burning Embers, 'romance like Hollywood used to make', set in Kenya, 1970; the award-winning Echoes of Love, 'an epic love story that is beautifully told' set in turn-of-the-millennium Italy; and Indiscretion, her fieriest novel yet, set in 1950s Spain.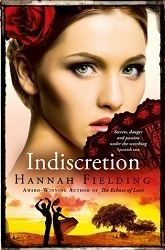 Title:
Indiscretion
Series:
The Andalusian Nights Trilogy #1
Author:
Hannah Fielding
Published:
April 9/15 by London Wall Publishing
Length:
464pgs
Genre:
historical romance
Shelf:
review
Rating: ★★★
Back Cover Blurb:
A young woman's journey of discovery takes her to a world of forbidden passion, savage beauty, and revenge.
Spring, 1950. Alexandra de Falla, a half-English, half-Spanish young writer abandons her privileged but suffocating life in London and travels to Spain to be reunited with her long-estranged family.
Instead of providing the sense of belonging she yearns for, the de Fallas are driven by seething emotions, and in the grip of the wild customs and traditions of Andalucia, all of which are alien to Alexandra.
Among the strange characters and sultry heat of this country, she meets the man who awakens emotions she hardly knew existed. But their path is strewn with obstacles: dangerous rivals, unpredictable events, and inevitable indiscretions. What does Alexandra's destiny hold for her in this flamboyant land of drama and all-consuming passions, where blood is ritually poured on to the sands of sun-drenched bullfighting arenas, mysterious gypsies are embroiled in magic and revenge, and beautiful dark-eyed dancers hide their secrets behind elegant lacy fans?
"Indiscretion"is a story of love and identity, and the clash of idealsin the pursuit of happiness. But can love survive in a world where scandal and danger are never far away?
My Review:
Fielding goes into great detail with her descriptions, painting the entire world in minute detail for the reader. I know what every destination on the main character's journey looks like. She crafts her world well, allowing readers to walk through it. That said, the story took place in the 1950s, but had a rather Victorian feel to it. It did take me a little while to get into the tone of Fielding's writing with this one. It was almost as if there were a sense of reservedness between myself and the characters.
Fielding's characters are well developed, if at times a little stereotypical. They did carry the story forward well, but I almost felt as if I could always guess what they'd do next. The hero's personality was so all over the place at times, flipping from one emotion to the next in quick succession, compared to the heroine who's all sweet & innocent. The large supporting cast filled out the rest of the story, giving context to everything.
As a whole, this was an enjoyable, picturesque novel.