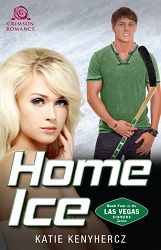 Title:
Home Ice
Series:
Las Vegas Sinners #4
Author:
Katie Kenyhercz
Publication Date:
June 29/15 by Crimson Romance
Length:
206pgs
Genre:
contemporary romance
Shelf:
review
Rating: ★★★★★
Back Cover Blurb:
Lorelai Kelly was mere inches from her Olympic goal, but a broken ankle landing a triple axel in the spotlight forced her to delay the gold medal hunt another four years. Now she's starring in the Sin City on Ice show to make ends meet and focused on a comeback that keeps eluding her grasp.
Dylan gained national attention in his early teens and went on to become the NHL's youngest captain and leading scorer in his second season. He breathed new life into a sport that had been dying in the States, but it's lonely at the top. Now the captain of the Vegas Sinners team is feeling the pressure and looking for something more.
America's ice princess might be the only one who can help his current slump—and Dylan's way of expressing thanks could undermine everything Lori has worked for. Can two people who spend their lives on the ice thaw just enough to let each other in?
My Review:
This is a romance with real substance. Kenyhercz combines romance with real life and sets it in the world of the Las Vegas Sinners in a manner that I won't soon forget. The intricately crafted plot was about so much more than simply two people getting together. Kenyhercz paints the world surrounding the rink in vivid technicolour. She brings a number of aspects of competitive skating, be it hockey or figure, to light in a manner that truly enhances the story.
Kenyhercz writes characters who catch your attention from the moment you meet them. Dylan's genuine cluelessness combines with his need to do the right thing and help others in manners that are truly comical at times. He wears his heart on his sleeve throughout, yet at the same time also maintains the macho, hockey captain aura. It's a truly heady mix that you can't help but love. Not to be outdone, Lori's stubborn streak runs a mile wide, the need to succeed coming before all else. Yet at the same time, she is a sweetheart on her own journey of self-discovery. Together, these two are a fantastic, fairy-tale couple with all the rashness and snark of the real world.
Kenyhercz is quickly becoming my go-to author for fun, contemporary romances. This novel is definitely no exception, ranking right up with the best of them.
Book Links