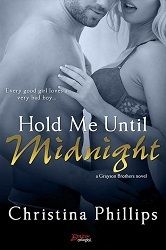 Title:
Hold Me Until Midnight
Series:
Grayson Brothers
Author:
Christina Phillips
Published:
June 9/15 by Entangled Publishing
Length:
176pgs
Genre:
contemporary romance
Shelf:
review
Rating: ★★★★
Back Cover Blurb:
Meet the three Grayson brothers. Big, bad and gorgeous.
HOLD ME UNTIL MIDNIGHT is the middle brother Jackson's book. He's an ex-street fighter who falls for a pampered princess who, despite the way things look, turns out to be exactly what he needs.

Every good girl loves a very bad boy…

Scarlett Ashford needs a date for her father's wedding. Only she doesn't just need a guy in a suit—she needs a bodyguard. The only problem is that Jackson Grayson is big and gorgeous and way too sexy. So much so that Scarlett's tempted to let this hot bad boy ruin her oh-so-good reputation…

Jackson doesn't do relationships and he certainly doesn't sleep with clients. Yet he can't fight their inconvenient attraction, or how badly he wants Scarlett's warm and wicked curves against his body. He wants her. Now. Even if it's just for one night, and even if walking away the next morning isn't as easy as he thought.

Besides, one hot and incredibly intense night between a bad boy and a pampered princess could never turn into something real…could it?
About the author:
Christina Phillips is an ex-pat Brit who now lives in sunny Western Australia with her high school sweetheart and their family. She enjoys writing paranormal, historical and contemporary romance where the stories sizzle and the heroine brings her hero to his knees.
Christina is addicted to good coffee, expensive chocolate and bad boy heroes. She is also owned by three gorgeous cats who are convinced the universe revolves around their needs. They are not wrong.
Sign up
to receive notification of when my next book is released.
Once again, Phillips has crafted an interesting and heated novel. She combines sweet & sexy in a way that tugs at your heart. Phillips also works a number of touchy and heart wrenching subjects into the mix in a way that creates a much deeper tale.
Phillips works hot sex into her faced paced story. She does so in a way that enhances the storyline, highlighting the relationship with the main characters. They were well developed, likeable individuals who had fantastic chemistry between them. I loved getting to know both of them. The shocking differences between their situations in life make it all the more poignant.
This was a hot & sassy novel. Phillips held my attention from cover to cover & has created a world for this series that I will definitely be returning to.
Add Hold Me Until Midnight to your
Goodreads
shelf!
Watch out for Cooper and Alex's books coming soon!