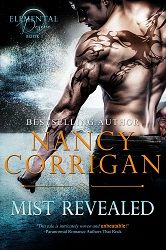 Meet the heroine of Mist Revealed—Cat
Cat is a twenty-nine year old human. She's a scientist who lives and breathes her research. Nothing else in her life holds her interest for long, including men. She doesn't have time for them, not when there are answers to be found, and the lure of knowledge pushes her to hyper focus on work to the point where eating and sleeping become optional. She knows it's a problem, but can't help it. She comes from a long line of obsessive scientists.
In fact, her great-grandmother was a brilliant biologist whose research advanced science during World War II. Only, she made many of her discoveries while pushing the envelope of ethical behavior. Cat can't help feeling as though she lives under the woman's shadow. She also worries that she too will one day be tempted to utilize less than reputable avenues to get the data she desperately wants. Fortunately, she's always had a voice of reason in her sister Janice. That all changes, however, when she succumbs to an unknown, deadly virus.
Cat is left with a mystery, one that has no reasonable explanation. For a woman who needs facts to explain her world, she's left floundering. A trip to Greenland to collect valuable data doesn't offer her the answers she seeks, at least not in the way she can rationalize with hard facts.
Myths, mysteries and emotions she's never had to deal with surround her in the misty and cold land. Her reasonable, orderly world is thrown off kilter and the only thing she can rely on is a man who somehow accomplishes the impossible—he changes her focus from science to love. She's just not so sure she can accept it…without facts to explain why she feels the way she does.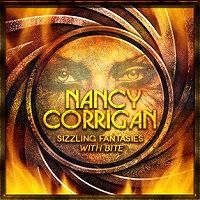 A little about Nancy…
A true romantic at heart, Nancy Corrigan is convinced there's a knight in shining armor for every woman (or man), but you won't find damsels in distress in her stories. She adores pairing alpha heroes with women strong enough to match them and bring them to their knees. She also enjoys flipping the traditional roles in romances because her motto is—love and people should never be forced to conform to anyone's norm.
She holds a degree in chemistry and has worked in research but now focuses on ensuring quality. She considers it the perfect outlet for her as she's the first to admit she has some OCD tendencies. It carries over into her writing life too. While engrossed in a novel, she has a habit of forgetting to eat and sleep. Fortunately, she's married to her own knight in shining armor who understands her oddities and loves her anyway. They reside in Pennsylvania with their three children, dog, snake and guinea pigs. Her other interests include tattoos, animals, classic cars and all things spooky and sexy.
Connect with Nancy…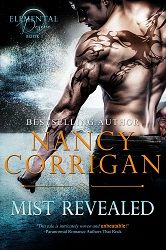 Mist Revealed
By Nancy Corrigan
Elemental Desire, Book 1
A woman seeking answers…
Cat, a renowned scientist, embarks on a quest to uncover the source of the unknown deadly virus that claimed her sister's life. What she finds is a man shrouded in mystery who manages the impossible—swaying her devotion from logic to passion. But Rune isn't simply a lover. He's a weapon, one that has the potential to save her or destroy her.
A man searching for treasure…
Rune, a child of the mist, awakens into a world hovering on the verge of destruction. Ragnarok is coming. His enemies have been released from their prison. And he's discovered the one woman who can thaw his frozen heart. But the race to stop the final battle isn't the time to fall in love. Or is it?
A discovery that will change everything…
Life evolves, and what was lost can be recovered. But the truth revealed isn't the one Cat or Rune expects. The impossible has become reality. And two lovers must make a choice—adapt or die.
Author's note: Mist Revealed was previously released as Mist Unveiled and has been reedited.
Excerpt:
"The cursed ones have returned!" A wrinkly woman with cataracts wobbled forward on the arm of the teenage boy Rune had seen at the hotel.
Francis jumped to his feet, a lithe move for a male of his advanced years. "Irene, hush now, before you frighten Miss Saunders."
The creases by Irene's eyes deepened. "Frighten? Well, she should be. You all should be." Her steady, accusing gaze skimmed the crowd before settling on Francis. "I told you they'd awoken. You did not believe. Now, do you believe? We are doomed!"
Rune squinted to bring her blurry image into focus. The effort it took to keep the dying male's mind quiet sucked precious energy from him. "What are you talking about, woman?"
The crowd's cries turned to whispers as if they too waited on her answer.
She clicked her tongue. "They call it global warming." Her nose wrinkled. "It's not. I've tried to tell them." She waved a gnarled hand at the crowd. "Ragnarok is coming."
Gasps and curses drifted from the bystanders. A few people blessed themselves and hurried away. Others shook their heads.
Rune swallowed hard. "What makes you think that?"
The woman yanked the boy's arm. He led her closer. "My father passed on the stories of the bringers of Doomsday. Eldjötnar, he called them. Fire-wielding blood drinkers who would kill the old gods once and for all so they could shape the new world. I didn't believe him, not until the staff washed up on shore."
Rune sucked in a breath, a response he couldn't stop.
The older female chuckled. "You know of the old gods then too? Their hoarded treasure has been found."
His heart raced. "Where? Where is it?"
More cackling laughter. "Gone. All gone."
Get the book at…