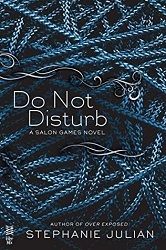 Title:
Do Not Disturb
Series:
Salon Games #4
Author:
Stephanie Julian
Published:
June 16/15 by InterMix
Length:
279pgs
Genre:
Contemporary erotic romance
Shelf:
Netgalley
Rating: ★★★★★
Back Cover Blurb:
A seductive affair is twisted by secrets in the latest Salon Games novel from the author of Over Exposed.
To the outside world, Dane Connelly is the playboy heir of a media mogul, his life a series of one-night stands with no commitments. Only in the Salon does he satisfy his darker urges with willing partners. Life was perfect…until his best friend fell in love. Now Dane knows exactly what he's been missing—and exactly who he wants.
Talia Driscoll enjoys creating perfection. She loves bright, glittery parties and fairy tale weddings. But she knows the illusion is short-lived. Nothing lasts forever and everyone lies to get what they want. After all, she lies about her true identity every day.
After an explosive night at the Salon, Dane is determined to sway the reluctant Talia to be his completely. But the secrets that keep them apart are at odds with the erotic passion that draws them together…
My Review:
Sinfully hot and endlessly exciting. That is how I'd describe this one. Julian creates a world that combines all the eroticism of The Salon Games with an emotional component that tugged at my heart throughout. The well-developed setting lays the scene for this novel that combines emotional turmoil, budding relationships, and real life tragedies in a manner that held my attention throughout.
On top of this fantastically plotted story, Julian has created an unforgettable cast of characters. The main couple is so well developed that you feel as if you're living alongside them. The relationship between these two may have been intense & quick to start, but they really took the time to get to know one another. I appreciated the fact that the relationship was based on more than simply chemistry right from the beginning. That said, the sex was hot enough to make you sizzle, but was also so much more. It added to the relationship and bond between the characters. Julian also develops her supporting cast in a manner that really brings out the tight bonds within this group. I loved getting to know each and every one of them as they all added their own flair to the story.
Julian has definitely created a novel that cranks up the heat factor and creates an unforgettable, believable, and truly enjoyable world for readers to get lost in. It's a fantastic addition to the series, or a hot read on its own that will leave you dying to go back and read the rest of the series. This is truly a novel that I wouldn't hesitate to recommend to others.