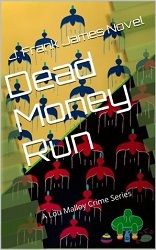 Title:
Dead Money Run
Series:
Lou Malloy Crime #1
Author:
J. Frank James
Published:
Auguest 12/13 by J. Frank James LLC.
Length:
302pgs
Genre:
crime thriller
Shelf:
review
Rating: ★★★★
Back Cover Blurb:
Dead Money Run is the first book in the Lou Malloy Crime Series.
Lou Malloy learns of his sister's death right before he is released from prison, having served 15 years for the theft of $15 million from an Indian casino. He wants two things: to keep the $15 million, which no one has been able to find, and to track down and punish whoever killed his sister.
Lou Malloy teams up with Hilary Kelly, a private investigator. In no time, Lou has found the hidden $15 million, recovered guns and ammunition hidden with the money, and murdered two low-level mobsters and fed them to the crocodiles.
As the body count rises, the story grows more complex and his sister's death becomes more mysterious.
My Review:
What an intriguing premise. James takes the general world of suspense & turns it on its head, looking at it from the opposite side. He polarizes the world and makes it palpable and enjoyable. Suspense and plot twists abound as we journey alongside these characters. This novel was so well written that it was easy to enjoy the story that James has created. Short chapters combine with long to highlight the suspense & to pull readers further and further into this world of mayhem and adventure.
James' believable characters launch this story from the realm of enjoyable to unforgettable. They're well developed and readers really get to know them well. Their adventures and lives took me deep into another part of our world. James has definitely created the type of characters that you never forget.
This was a gripping novel that I thoroughly enjoyed. This enjoyable read definitely launches James' series, and career, well.