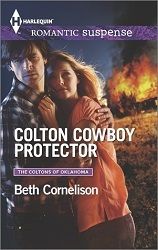 Bon Appétit & a Book:
Beth Cornelison's Texas Bean Dip
Here's a favorite recipe with a Texas flair! I can easily imagine Jack Colton and his brothers sitting down to watch the Dallas Cowboys play football with a big dish of this hot dip and a cold beer.
Ingredients:
1 (8 ounce) package cream cheese, softened
1 cup sour cream
2 cans (16 ounces, each) refried beans
1 packet taco seasoning
2 cups cheddar cheese, shredded
2 cups Monterey jack cheese, shredded

Directions:
Preheat oven to 350 degrees. Mix together cream cheese and sour cream in a large bowl. Mix in refried beans until combined. Stir in taco seasoning.

Spray a 9x13 baking pan with cooking spray. Spread mixture evenly into the bottom of the baking dish. Sprinkle the top with both cheeses.

Bake for 25 30 minutes, or until cheese is melted and slightly browned. Serve with tortilla chips.
About the author:
Award-winning author Beth Cornelison has been writing stories since she was a child. A University of Georgia graduate, Cornelison worked in Public Relations before becoming a full-time writer. She has won many honors for her writing, including the coveted Golden Heart, awarded by the Romance Writers of America. She lives in Louisiana with her husband and son.
Praise for Beth Cornelison:
"Steady pacing and a solid plot, complete with a dramatic, passionate ending, are all hallmarks of one terrific romance." –
RT Book Reviews
on
Colton Cowboy Protector
"Ms. Cornelison has written a multi-layered story of fear, passion, and risks. Her characters, the story, the romance itself are memorable…" –
Once Upon a Romance Review
on
Healing Luke
"Cornelison has written a page turner that is truly enjoyable from beginning to end." –
Fresh Fiction
on
Cowboy's Texas Rescue
"Be ready for a roller coaster ride of emotions while you enjoy this wonderful novel." –
Long and Short Reviews
on
Reyn's Redemption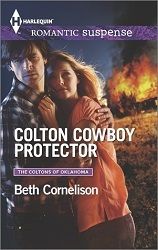 Title:
Colton Cowboy Protector
Series:
Coltons of Oklahoma #1
Author:
Beth Cornelison
Published:
June 2/15 by Harlequin
Length:
288pgs
Genre:
romantic suspense
Shelf:
review
Rating: ★★★★★
Back Cover Blurb:
Rancher and single dad Jack Colton must face an assassin in the thrilling first book of The Coltons of Oklahoma…
A beautiful stranger appears at the Colton ranch during a party, and Jack is none too pleased. With ties to his ex-wife, Tracy McCain claims to be on a mission to bond with his son. But this intriguing widow also has a target on her back. As the Colton family brings Tracy under its broad wing, a relentless assassin puts everyone in jeopardy. Jack's protective instincts go into overdrive…and only fuel his secret attraction to Tracy. Living closely together under Jack's roof, the heat between them starts to sizzle. In fact, the only thing stronger than Jack's heady desire for Tracy is his will to keep her safe…so that one day they can become a family.
My Review:
Cornelison weaves so many different veins of suspense through this story that it truly stands out as a novel to read (& re-read). She kept me on my toes with plot twists and turns, all the while creating a romance that will last. She brings this world to life in a manner that's easy to picture. I feel as if I've actually been to the Lucky C.
This author used every word of this novel to her best advantage, at times stepping back from the action and suspense of the tale to allow the characters quite moments to get to know one another, all the while allowing readers to get to know them better as well. I loved how Cornelison worked the characters' body language into the story. It's as revealing as what they say and how they think. You really get a complete picture of each and every one of them.
Not only has Cornelison created a romantic suspense that I wouldn't hesitate to others, she's begun a series that I can't wait to get my hands on.