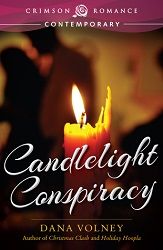 Title:
Candlelight Conspiracy
Author:
Dana Volney
Published:
May 11/15 by Crimson Romance
Length:
95pgs
Genre:
contemporary romance
Shelf:
review
Rating: ★★★
Back Cover Blurb:
Sophie Graystone is a florist by day, a lead guitarist by night, and neighbor to an aloof restaurant owner all the time. But then her apartment building loses power during the holidays, and thanks to the wickless candle trend, she's left with no light and a rumbling tummy.
What's a guy to do but invite this crazy, beautiful whirlwind for a late-night menu tasting? Marc Sizzo's too busy concentrating on making his new venture a success to fall in love. But sharing confidences in the intimate candlelight just might be the spark for a real relationship.
Marc's sincerity, wit, and sexy body catch Sophie off guard and make her rethink her own approach to love … until his ex-fiancée shows up out of the blue and wants him back. Will the New Year blaze new hope for Marc and Sophie or snuff out this fledgling flame?
My Review:
Volney has created a nice, quick, light read with a lot of heart. It was well written & presented to readers who can escape into a world of love & trying again. I loved finding out the true meaning of the title. It added extra depth to the story.
The leading lady in this novella caught my attention. She hides behind a crazy schedule as a way to avoid relationships in life. Her reactions to things were priceless. There was more than once that I felt the male lead was hiding something, to the extent that when I found out what he was hiding I had to giggle & say 'that's it?' But he was definitely a good fit for this story. His introverted nature suited the life he followed quite well. I really liked how the characters actually talk to each other, like honest to goodness conversations. It made me feel as if they really took the time to get to know one another. The characters were genuine and well developed, but they didn't hold my attention throughout.
This is a sweet story of love & trying again. It's a great way to spend an afternoon.