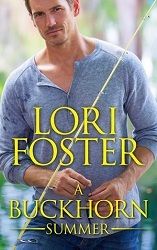 Title:
A Buckhorn Summer
Series:
Buckhorn Brothers #8
Author:
Lori Foster
Published:
June 2/15 by Harlequin
Length:
195pgs
Genre:
contemporary romance
Shelf:
Netgalley
Rating: ★★★★★
Back Cover Blurb:
In a sexy new Buckhorn Brothers novella, New York Times bestselling author Lori Foster welcomes readers back to the small town that's big on romance…
Lisa Sommerville's wild one-night-stand was completely out of character for the workaholic businesswoman. So when she arrives in Buckhorn, Kentucky to spend a summer rethinking her career, she's stunned to find that Gray Neely has stepped out of her steamy memories and taken up residence in her hometown. What's more, the laid-back ex-cop wants to pick up where they left off.
Lisa has been on Gray's mind every day since that mind-blowing encounter. He was reeling from a tragedy in the line of duty, and their connection was instant and intense. Still is. But sleepy Buckhorn is a million miles from her corporate world. And he has one sweet, hot summer to prove they have a future there, together…
My Review:
Hot damn! I want to move to Buckhorn. This town has it all: welcoming residents, a sense of community, summer fun on the lake, and an abundance of hot men. Foster has created the perfect backdrop for this story in this novella. She develops the marina in such a manner that readers can easily picture the dockside fun while at the same time really get into the story itself. Foster had me giggling from the beginning with this one. The premise itself was captivating, but the manner in which Foster told the story made it impossible to put down.
I loved getting to know the characters in this novella. Foster develops her main couple well, both individually and as a couple. I loved the dynamic between the two. Gray's easygoing personality mixes well with Lisa's intense focus. Amber's matchmaking was priceless! Her intervention was beyond comical yet really let you get to know her, and the main characters, in an interesting light.
Once again Foster has created a fantastic novella that allows readers to visit Buckhorn while experiencing the romance of a lifetime. I love how you can get into the story as part of the series, or just as easily read it on its own for a bit of fun. It's a must read for fans of contemporary romance.