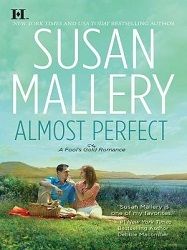 Title:
Almost Perfect
Series:
Fool's Gold #2
Author:
Susan Mallery
Published:
June 29/10 by Harlequin HQN
Length:
379pgs
Genre:
contemporary romance
Shelf:
own
Rating: ★★★★
Back Cover Blurb:
Back in high school, Liz Sutton was the girl from the wrong side of the tracks. Then she'd stolen the heart of the most popular boy in town, and their secret romance helped her through the worst of times. Until Ethan Hendrix betrayed her and everything they'd ever meant to each other. Devastated and pregnant, Liz left Fool's Gold, California-forever, she thought...
Now Liz must return to town and face the man who doesn't know of their son's existence. And this time she won't have the option of making a quick getaway. Ethan and Liz can't deny their passionate attraction, even after all these years. But will their desire be enough to spark a second chance at love?
My Review:
Mallery had me gasping in shock from the 1st page in this one. She drew some very poignant and thought provoking topics into her incredible story of second chance love. Stereotypes and prejudices rear their head around Fool's Gold as Mallery's characters take readers on a heartfelt journey to loving again.
Mallery has created a cast of characters that brings live and love to readers in a big way. Her characters are so real. They lead real lives with real life issues. Nothing's sugar coated, yet these characters still leave you with a smile. I love how she focussed on the entire family, rather than simply the main couple. Now, don't get me wrong, the main couple definitely stands out. Ethan's self-discovery was comical, especially since everyone had been telling him the same thing for most of the book. Liz's selflessness, while secretly wanting more, definitely drew me to her. But at the same time, the story was so much bigger than just them. Everyone's thoughts and desires are brought forth. And it's all steeped in all that is good (and bad) about Fool's Gold.
This was another life altering read from Susan Mallery. She adds a gem to her Fool's Gold series while providing readers with a story that will hold them heart & soul.